Feta Pepper Omelets for 2
Bergy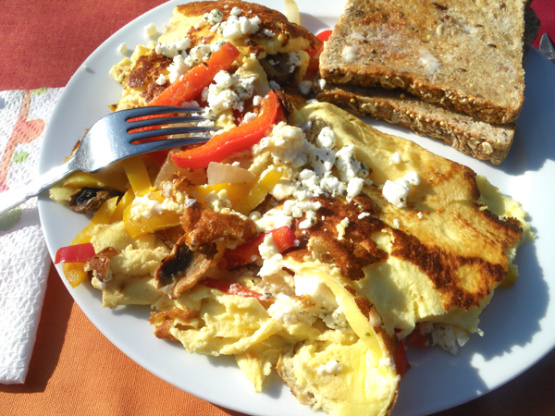 These use minimal ingredients, yet they burst with flavor! These would also be good adding sauteed mushrooms, olives, capers, or roasted garlic! So easy to whip together for a fast, but filling hot breakfast! ***This recipe is only for 1/2 people! Increase everything if you are making for more! Enjoy...
In medium bowl, wisk together eggs, seasoning salt, and tobasco. Set aside.
Heat olive oil over medium high heat in large skillet. Sautee the bell peppers and red onion slices about 10 minutes, or until desired. Season with salt and pepper. Remove from pan and set aside.
In same skillet, add egg mixture over a medium heat. Let eggs set completely on the bottom, leaving it just a little runny on the uncooked top.
Using two spatulas if need be, flip the set egg onto the second side and immediately add half of the feta cheese on one side of the omelet.
Place onions and bell peppers on top. Place cheddar cheese on top of peppers and onions.
Fold empty side of the omelet over the veggies and cheese and top the top of the fully cooked omelet with the remaining feta cheese.