Farfalle Al Salmone Affumicato (Pasta With Smoked Salmon Cream)
teresas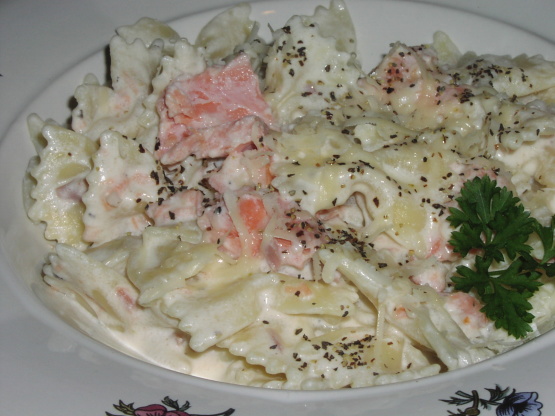 A dish I heartily enjoyed recently in Tuscany. This is me experimenting at making it - no claims to authenticity - it is toothsomely tasty, though. It can be on your table in practically no time at all and is dead-simple to make. I have also made this using left-over, cooked salmon, and it is still very good indeed, although missing the smokiness of the original recipe.

Made exactly as written for The QUEST 2014 and served as part of a 2-item starter course for a family dinner party of 9. This packed with flavor easy-fix comes together amazingly fast. In fact, I cooked the pasta and made the sauce at the same time and they were ready at the same time too. I did opt to add freshly snipped chives I was given by a friend with garden plenty. It is nearly a given that you cannot go wrong in Iceland serving smoked salmon. My guests loved your recipe and were very pleased to see smoked salmon served in such a "creative and delicious" way. It was my personal fave of the 5 recipes I opted to serve, so thanks for sharing your recipe with us, Agent Ev. (Pic will post later today)
Cook the pasta in lots of boiling, salted water until dente. Drain and set aside.
In a large skillet, saute garlic in butter over medium heat for 2 minutes, careful not to let the garlic brown or burn. Add vodka and cook a further minute or so for alcohol to evaporate. Add half and half and cream cheese and whisk until the cream cheese has melted into the sauce. Add the pepper and simmer for 2 minutes.
Add the cooked pasta to the sauce and all of the smoked salmon. Keep tossing and cooking the pasta in the sauce for 1-2 minutes so that the pasta absorbs some of the sauce, but is still coated in a 'runny' and creamy sauce.
Garnish at table with freshly-grated parmegiano-reggiano cheese and more freshly-cracked black pepper, as desired.