A Middle Eastern delight. I don't know how authentic this recipe is but it is my favorite.
Directions
To make Herbed Cucumber Yogurt: Add all yogurt ingredients to a mixing bowl; whisk to combine; cover and chill until ready to serve.
To make Falafel: Add the scallions, garlic, cilantro, and mint to the container of a food processor; pulse until mixture is finely chopped.
Add the chickpeas, breadcrumbs, cumin, baking powder, salt, and Tabasco; continue to pulse until the batter has the consistency of cooked oatmeal.
Lightly oil hands and form mixture into 4 burger shaped patties.
Spray each patty lightly with cooking spray.
Let the olive oil get hot (but not smoking) in a large skillet over medium heat.
Fry patties for about 4 minutes on each side or until golden brown and crisp.
Transfer cooked patties to a paper-towel lined plate.
Put cooked patty into warmed pita pocket with shredded lettuce, chopped tomatoes, and sliced onions.
Serve with Herbed Cucumber Yogurt.
Most Helpful
Never thought I'd make a falafel recipe because I don't have a deep fat fryer and don't like to eat high fat foods. So I read the reviews and decided to make this by cooking it at 400F for 20 minutes. It turned out terrific! It browned very nicely. Since I didn't have a food processor, I used my blender and blended it in batches. It wasn't the optimal tool, but it worked. Since I was baking them I added the 2 tbsp oil to the falafel mix. It wasn't too much oil, and I think it helped it hold its shape. I really loved the yogurt in this recipe. It may have been tastier with a tahini sauce, but with the yogurt it was lower fat. I'll be making this again! BF loved it.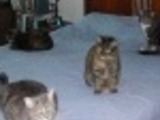 This is SO good! It's become a regular favorite in my house. I like to skip forming it into patties and frying in a skillet more like loose hashbrowns, then mixing everything together with the vegetables and sauce in a bowl before putting into the pita pocket. Thanks!
This was the best falafel I have ever had! Really, it was better then any restaurant. I was nervous about the mint, I thought, how could that be in there, but I made it exactly as written anyway, and it was perfect. I just ate some plain, to try right away, but will probably make a tahini sauce to go with them for next time. I made extra, and flash froze them, so will let you know how they turn out once unthawed. I plan on heating them up in the oven after defrosting. Edit - I defrosted them in the microwave until heated through, and they tasted just as good as they did when fresh.