Eggs With Cheese and Olive Oil
Rita1652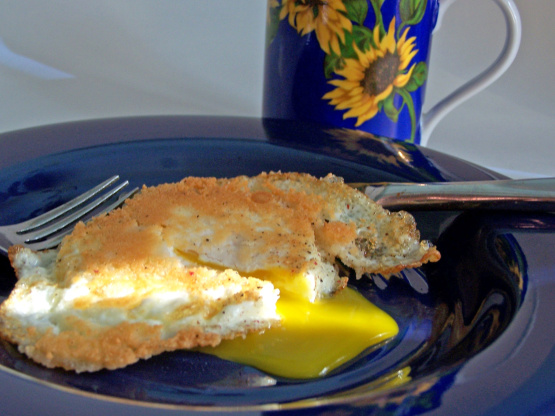 Even though it may sound strange, a drizzle of extra virgin olive oil adds an exquisite new dimension (and amazing flavor) to fried eggs.

these are different and strange, but GOOD! i love eggs, love parmesan, and love olive oil- so i figured i'd try this... and whaddya know!? yum! thanks for posting!
Heat a large skillet over medium heat. When hot, add 4 teaspoons of oil to pan and swirl to coat.
Place eggs in carefully and cook until the white has become solid, about 1 to 2 minutes.
Sprinkle the eggs with salt, pepper, and about a tablespoon of cheese for each egg.
Swirl the remaining olive oil on the top of the cheese.
Carefully turn eggs and cook until yolk is of desired doneness, about 1 minute.
Serve immediately. (Makes 4 servings).