Mediterranean Scampi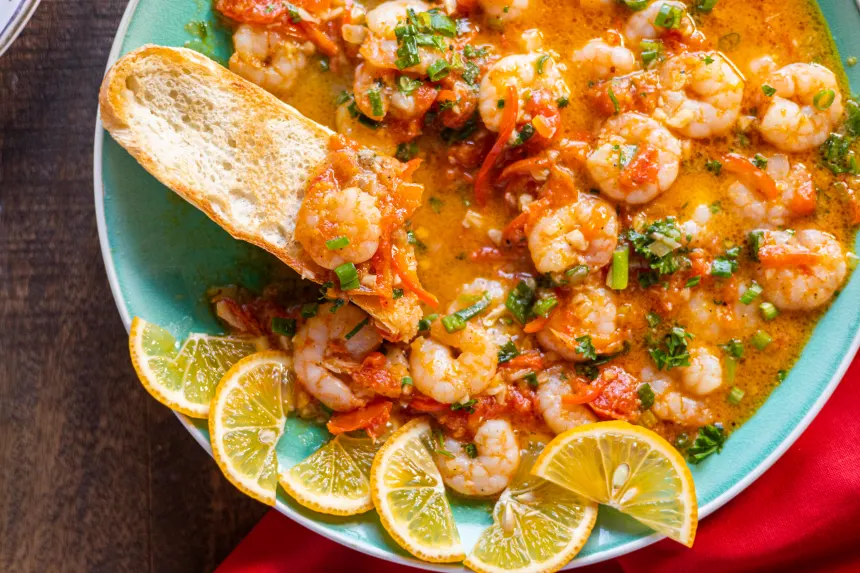 photo by limeandspoontt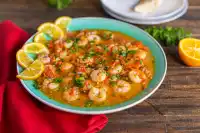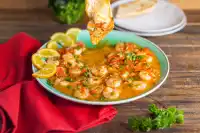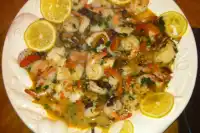 Ready In:

45mins

Ingredients:

14
ingredients
2

lbs large shrimp, peeled, deveined, tails on
1⁄4 lb unsalted butter

1

head garlic, whole head, peeled, crushed, and chopped fine

1

cup green onion, bulbs and stems chopped coarse

2

large red bell peppers, roasted, skin seeds and pith removed and cut into thin strips

2

cups fresh ripe plum tomatoes, peeled and cut up with their juice

1

cup flat-leaf Italian parsley, with stems (chopped fine)

1

tablespoon fresh oregano leaves, chopped fine

1

tablespoon fresh basil leaf, chopped fine
1⁄2 cup kalamata olive, pitted, crushed and chopped coarse
1⁄4 cup capers

2 -3

lemons, cut into wedges
1⁄2

lemon, juice of

1⁄2 cup dry white wine
directions
In a large skillet or deep fast fry pan, melt butter; be careful it does not burn.
Saute the garlic; when golden in color, remove from heat and set aside for later use.
Add onions, saute until just softened; remove from heat and set aside for later use.
Add plum tomatoes with their juice; lemon juice, white wine; bring to a boil.
Add onion and garlic which you had set aside.
Add roasted red bell peppers.
Turn down heat and allow liquid to reduce.
Add fresh herbs (parsley, oregano, basil).
Add shrimp and steam until pink.
Add capers and olives; allowing them to warm through.
Turn out onto a warm platter or serving bowl -- garnish with lemon wedges, and serve while hot.
Serves 4 - 6 comfortably; cook time - approximately 45 minutes, including peeling and chopping.
Questions & Replies

Got a question?
Share it with the community!
Tweaks
A lovely variation on scampi, I halved the recipe and substituted regular tomatoes for the plum as i had a ton from my garden.I served this with caesar salad, Ev's baked feta (#67949)and hot french bread.DH said this was "slap your Mama" food.Its a keeper!!<br/>just made this recipe again..timed myself..took 20 mins start to finish.did use jarred red peppers.but still fabulous recipe.and really quick to whip up..maybe im a really fast chopper .lol!

 

I chose this recipe last night because of all the votes. I am not normally such a creative chef, but our dinner guests requested Meditteranean so I gave it a try. SO glad I did! I ask my husband to rate my new recipes on a scale from 1-10. I've usually gotten 8,9 or 10- but this recipe got a 12! A first! The guests loved it too. Not only was it aromatic and flavorful, the presentation was nice, too. <br/><br/>I made a few subs- I used chicken broth instead of wine (actually think it would be okay without it), I used regular tomatoes instead of plum, I used half the butter, I only had one roasted red pepper so I used jarred for the other, I only put in a few tablespoons of olives and about 1 (or less) TBS of capers (I was nervous about them). Even after ALL those substitutions, everyone still loved it. Served it with salad and a crunchy bread.<br/><br/>It took me about 2 hours to make from start to finish- the major time killers were roasting the red peppers (1 hour total, but super easy, you can be doing other prep while you wait), and peeling, crushing and chopping all that garlic. Both of these things can be done the day before (store red peppers in oil), so I will be doing that next time. Now that I've done it once, it will be a breeze to do over, which I certainly will (again and again!).<br/><br/>THANK you for this recipe, I loved hearing what a great chef I am! :)

 

This is delicious. I note that it did take me considerably longer to make than the 45 minutes noted. However, it was well worth the time spent. I used chicken broth instead of white wine, and I took the tails off the shrimp to be able to enjoy the shrimp whole without having to worry about not biting into the tail. Thanks for posting.

 
RECIPE SUBMITTED BY
<p>Gone, but not Forgotten. Where is she? someone asked. Not far was the loud response. Certainly not hiding in a large roasting pan, although I do have one about the size of a hog. <br /> <br />If I don't do this now, I never will, and if I never will, who will tell me if I am any good at the literature game? I am taking some time off to concentrate on writing a book...and you people have been distracting me. Oh yeah, sez you... What kinda book? Well, one with about 200 pages, give or take a dozen or so... maybe 300 who knows? Everyone knows Toolie has a lot to say at the best of times. <br /> <br />A DIY book??? Naaahhh, I'll leave that to the real mechanics at Canadian Tire and Home Depot. <br /> <br />A Recipe Book? Yeah, Right!!!! Like I would compete with this site or any other... Not in this lifetime... I have a tough enough time competing with some of you chefs, so I just don't, and won't. <br /> <br />Oh sure, I will cook some of your recipes, for special occasions. Pictures? Who knows? but don't hold your breath. Posting in the forums? Perhaps, but not on a regular basis... Posting recipes??? from time to time.... <br /> <br />Why hang around, you say? Because I wanna keep my terrific handle. There is only one TOOLBELT DIVA folks... Dat Be Me! <br /> <br />Remember, be careful what you say, you might find yourself in the second paragraph of page 150, or thereabouts. <br /> <br />In October, 2007 my youngest sister, Marie lost her battle with ALS. In her memory, therefore, I post the following: <br /> <br />SISTERS <br /> <br />Time passes. Life happens. Distance separates. Jobs come and go. Love waxes and wanes. Hearts break. Parents die. Careers end. Life happens ... <br /> <br />BUT...... Sisters are there, no matter how much time and how many miles are between you. <br /> <br />When you have to walk beside one dear to you in that lonesome valley, the women in your life will be on the valley's rim, cheering you on, praying for you, pulling for you, intervening on your behalf. <br /> <br />They will walk beside you, share your sorrow and share your tears, knowing all the while God is there with you, to give you the strength and faith you need and the everlasting blessings of healing love. <br /> <br /> <br /> <br />BE THE CHANGE YOU WANT TO SEE HAPPEN IN THE WORLD (M. Gandhi) <br /> <br />IT'S NEVER TOO LATE TO BECOME WHAT YOU HAVE ALWAYS WANTED TO BE (Georges Eliot) <br /> <br />THAT WHICH WE PERSIST IN DOING BECOMES EASIER, NOT THAT THE TASK ITSELF HAS BECOME EASIER, BUT THAT OUR ABILITY TO PERFORM IT HAS IMPROVED. (Ralph Waldo Emerson) <br /> <br />Have fun everyone! Remember, look out for the guy in back of the guy in front of you!!!</p>
View Full Profile