Ms B.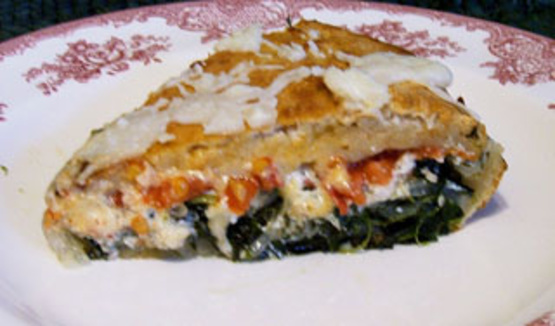 An easy version of deep-dish pizza that is loaded with veggies. You can add pepperoni, smoked turkey or ham between the spinach and ricotta layers, if you like. From a Better Homes and Garden cooking contest.

Made your veggie pizza this evening. I did not find it difficult to make, it was rather easy to prepare....and it was prepared as written. Hubby and I enjoyed our meal, but we both felt that it could have been better had I used something other than the refrigerated rolls of prepared pizza dough. Next time I am going to buy pizza dough from our local pizzeria which will sell the dough by the pound. This recipe will go into my recipe box as a keeper. I have visions of other veggies I might add to this recipe. It is a good recipe to experiment with, and I love having a top crust on the pizza....what an idea!
Preheat oven to 425°F.
Lightly coat a 12-inch heavy oven-proof pan or cast-iron skillet with nonstick cooking spray.
Unroll 1 package of pizza dough and shape into a circle.
Press dough into prepared skillet; shape onto bottom and halfway up sides.
Bake 5 minutes, remove from oven.
In a large skillet sautee onion and garlic in 2 tablespoons of oil about 5 minutes, or until tender.
Add spinach, 1/4 teaspoon salt, and 1/4 teaspoon pepper.
Cook and stir until spinach is heated through.
Remove from heat and set aside.
In a small bowl combine ricotta cheese, 1/4 cup of pizza cheese, parsley, 1/4 teaspoon salt, and the red pepper flakes.
Spread the spinach mixture evenly over the bottom of partially baked crust.
Spread the ricotta mixture over the spinach layer.
Top with the sliced tomatoes and drizzle with 1 tablespoon of olive oil.
Sprinkle with 3/4 cup of the pizza cheese.
Unroll remaining pizza dough and form into a 12 to 13 inch circle.
Place dough on top of layers.
Brush with remaining olive oil.
Bake 15 to 20 minutes or until top is golden.
Top with remaining pizza cheese.
Bake 2 to 3 minutes, until cheese is melted.
Let stand 10 minutes before cutting.