cyaos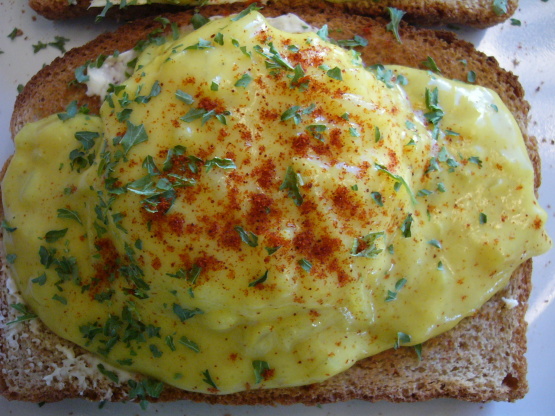 This is a traditional Danish Smorgasbord dish. It is very versatile I sometimes put a layer of steamed spinach in a casserole, leave out the toast,put boiled eggs onto the spinach, pour in the sauce and broil for 5-10 minutes

Bergy, thank you. This one is a "keeper". I piled spinach onto the toast, covered the spinach with choppped hard-boiled eggs, then poured on the sauce. Tasty! (I'm also looking foreward to pampering myself with Rital's adaptation.)
Saute the carrot and onion in the butter for 15 minutes.
Use low heat you do not want to brown the veggies.
Add flour and curry.
Stir and heat to a smooth paste.
Gradually add all the remaining ingredients starting with the consomme, stirring all the while to prevent any lumps.
Simmer approx 8 minutes. Keep hot while you are poaching the eggs.
Poach the eggs (or use hard boiled eggs cut in half lengthwise).
Place eggs on toast and pour over the sauce.
Garnish with fresh parsley and dust with paprika (optional).