Cumin-Seasoned Fish Tacos
KateL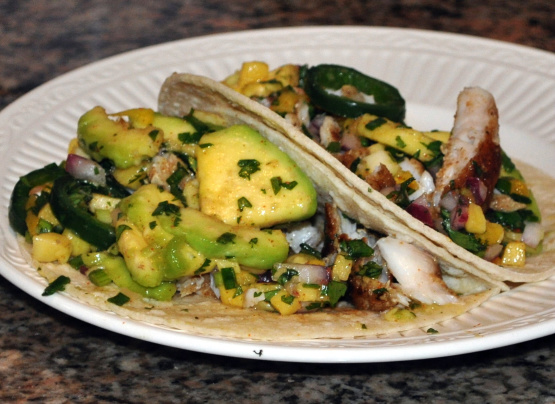 From Cooking Light. Son, DIL, and 4 year old gs recommended so fixed it myself. Loved the salsa! GS eats it w/o the jalapeno in salsa. Serve with coleslaw and black beans or rice. Shh... cheat and make it with ground cumin and cilantro that comes in a tube. Think if you wanted a stronger taste, you could apply rub earlier. Might be good on shrimp.

I chose this recipe because it seemed to be full of the kind of flavours we enjoy and because it was fast to make and required minimal cooking (it's 104F here today!). I chose a winner! Doubled the recipe to feed my brood. The cumin comes out strong on the fish, but is subsequently tamed to a lovely hum with the bright salsa. Not only did the tacos taste delicious - they were gorgeous to look at, too! Thanks for a winner.
Heat a large skillet over medium heat.
Add cumin seeds, cook 2 minutes or until toasted, shaking pan frequently.
Combine cumin, 1/2 teaspoon salt, paprika, and black pepper in a spice grinder; process until finely ground.
Combine cumin mixture and garlic; rub over fish.
Return the skillet to medium-high heat, add oil to pan swirling to coat.
Add fish; cook 2 minutes on each side or until done.
Remove from heat; keep warm.
Salsa: Combine remaining 1/4 t. salt, avocado, and next 6 ingredients (through 1/4 t. red pepper).
Stir in optional jalapeno.
Heat tortillas according to package directions.
Break fish into pieces; divide evenly among tortillas.
Top each with 2 tablespoons salsa.
Fold tortillas in half; serve immediately.