Cube Steaks Baked in Gravy
R.Smith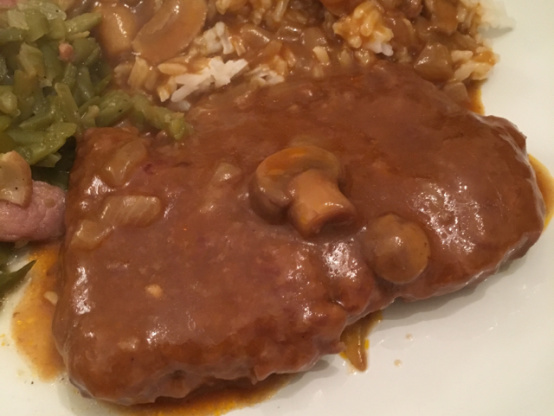 After looking over all the cube steak recipes this is what I came up with. My family loved these and now they want cube steaks at least once a week!! Fork tender you don't need a knife for these! Mashed potatoes go well with these.

"This is a keeper", said my husband. I used venison steaks instead of cube steaks, but all else was as written. This produced a nice rich gravy and even though my steaks were thinner than cube steaks, the two hours was right on, although I did reduce the temp to 200 after an hour and a half because I didn't want them to dry out. Oh, and I did as Chumleyathome suggested and put a little gravy in the bottom of the pan before adding the steaks.
Brown the cube steaks in 1 tablespoon butter, until browned on both sides.
Transfer the browned cube steaks to a covered casserole dish.
Saute the onions and Mushrooms in remaining tablespoon butter until softened about 5-6 minutes.
Place the mushroom/onion mixture over the browned cube steaks in casserole dish.
Mix the soups until well combined, add the minced garlic, Worcestershire sauce, kitchen bouquet stirring until well combined.
Pour mixture over cube steaks and mushroom onion mixture.
Place in preheated 350°F oven, covered and bake for 2 hours.