Bergy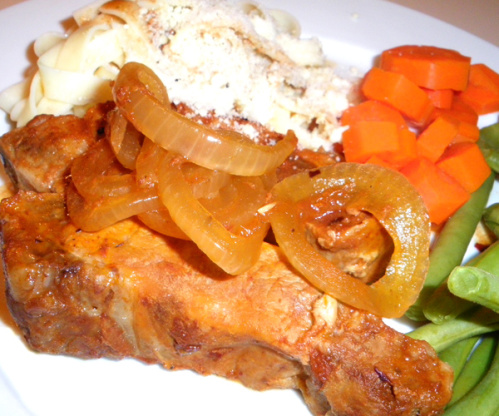 This is a wonderful tasty dish for those rainy days ahead. It has a mellow flavor and the meat is succulent but for some it may need a bit of hot sauce (I added 2 tbsp to the sauce).

Top Review by Laudee
Hey Bergy: Can't believe noone has tried your Crockpot Country Ribs. They are fantastic! Very easy to put together and the taste is DIVINE! Tossed a salad with Tonkcats Olive Garden Italian Salad Dressing, set on crusty bread to go with, and we had ourselves a feast! Thanks for posting another great recipe! Laudee C.
Place onion rings in the bottom of your crock pot.
Place ribs on top (trim off any excess fat).
Whisk together the remaining ingredients except the corn starch.
Reserve 1 cup--cover and refrigerate this cup.
Pour remaining sauce over the ribs, cover pot.
Cook at low for 5-6 hrs, drain ribs, keep warm.
In a small saucepan, add 1 1/2 tsp cornstarch already mixed in cold water to the reserved sauce , simmer until it thickens.
Serve with noodles, rice or gnocchi.