chia2160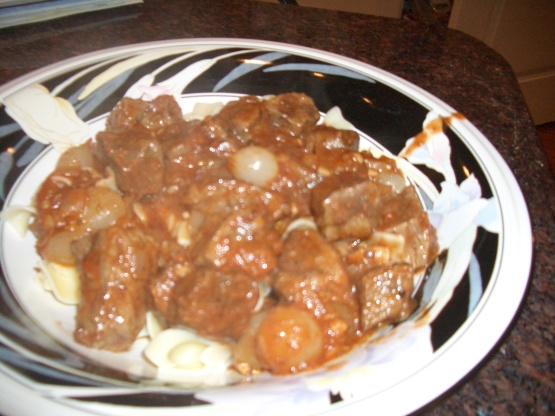 Another variation of this lovely Greek stew. I used to make this on the stove-top and in the oven, I have now adapted it for my crock pot. Most time goes into cleaning the small onions and I do this the evening before. If you don't want to be bothered with that substitute a large chopped onion.
I absolutely love Stifado but wasn't sure if my husband would. I made the recipe but added some fresh plum tomatoes, rosemary and a pinch of nutmeg. As this mixture is very thick I added some beef stock to thin it slightly. I cooked it in the slow cooker on low for 8 hours. It was FAB and my husband loved it..! We had it with cheesy garlic bread. A definite regular for us now.
Cover the onions with boiled water, stand for 5 minutes, drain, peel and set aside.
Dust the beef with the flour.
Heat half of the oil in a large frying pan and brown the beef, transfer to the crock pot.
Heat the rest of the oil and on a high heat brown the small onions for approx ten minutes.
Lower the heat to medium and add the chopped onion and the garlic, fry for another 5 minutes.
Now add the rest of the ingredients, mix and warm through then transfer to the crock pot.
Cook on low for 6 to 8 hours until tender.