Prep 10 mins
Cook 50 mins

If desired, serve with mixed greens tossed with pecans, a fruit vinaigrette and crumbled blue cheese. Add herbed egg noodles and a crusty bread, and you've got a meal made in heaven!"
Directions
Preheat oven to 350 degrees F (175 degrees C).
Arrange chicken in a lightly greased 9x13 inch baking dish. In a medium bowl, combine the soup, wine, garlic powder, cayenne pepper, mustard seed and sour cream and blend together; set aside.
Top each chicken breast with a slice of Swiss cheese and pour sour cream mixture evenly over the chicken. Crush the bag of croutons and sprinkle evenly over all, then drizzle with melted butter.
Bake at 350 degrees F (175 degrees C) for 50 minutes, or until chicken is cooked through and juices run clear.
Most Helpful
I ended up having to make a lot of substitutions but I think that the taste was still pretty close to what it would have been. I thought I had white wine, but turns out I was out of it so I used chicken broth instead. I also had to use ground mustard ( I didn't know how the measurement would translate so I only used 1/4 tsp). I also used fat free sour cream and just used seasoned bread crumbs instead of the croutons and omitted the butter. My chicken breasts were large so I cooked mine for closer to an hour. It was so moist and delicious! I think I could have used more mustard and bread crumbs but it was still good. I will definitely make this again!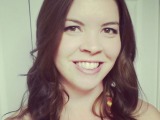 Beyond delicious! It reminded me of Swiss fondue except with chicken so that you don't have to eat so much fattening cheese. It couldn't be easier to prepare either. I used whole breasts and got six servings, lowering the calorie count, etc. I didn't use mustard seeds. I used Healthy Choice soup to keep the sodium more manageable. I'm not sure the croutons and butter are necessary.