Rita1652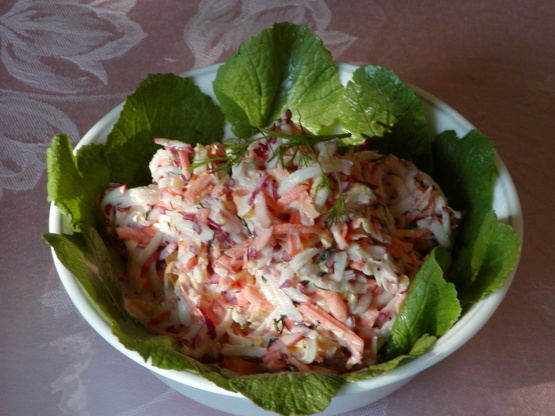 for all you radish growers- i haven't tried this one yet.

Top Review by Leasa2
I have to admit that radishes are far from my favorite veggie. I planted them in my garden anyway, and then had the dilemma of what to do with them when they were ready. Enter creamy radish slaw recipe. It's awesome! Even being a radish non-lover, I thoroughly enjoyed this dish! the recipe says to serve immediately, but I thought it was 10 times better after it had sit in the fridge for a day or two. I used plain greek yogurt instead of mayo to make it a little more healthy and I probably used a bit more dill than what the recipe called for. I also omitted the peppers and used a few more carrots. What a great way to use a bounty of radishes!
combine forst 3 ingredients in a bowl.
combine mayonnaise and remaining ingredients with a whisk.
drizzle over slaw, toss well to combine.
serve immediately.