Directions
On stove in small pot melt butter and add flour slowly to thicken it.
When it is almost like a paste add the milk and stir.
Continue stirring on low heat until the mixture thickens.
Add the drained can of peas and stir for a few more minutes.
Pour hot mixture over a buttered slice of toasted bread, add salt& pepper to taste.
Use a knife and fork to slice and eat your meal and enjoy.
Most Helpful
I love this. Used to make this when I was a bachelor and anxiously awaiting pay day. Make it now just because we like it. Sometimes I mix in a tin of salmon to the creamed peas just before spooning on to hot buttered toast.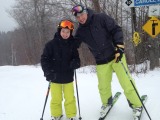 I was brought up on foods like these. My Mom was quite often alone and with 5 kids to feed she needed easy, filling good. I still love them to this day. The only thing I found different in this recipe is the amount of milk..I was taught a roux was usually 1 butter (tbsp) 1 flour (tbsp) 1 cup of milk or milk mixed with the juice of the peas or whatever vegetable you are using. Due to illness, there are many foods I can't eat but I love these comfort ones and they don't hurt me. I use olive oil becel in a dish, covered, and melt it in the microwave. I quickly whisk in the equal amount flour, then slowly add the milk pea juice to equal, whisking, then microwaving covered for 1 minute at a time then whisk each time. Once the peas are in, another minute or so in the microwave. Another goodie is creamed asparagus on toast..I mash the asparagus before adding to the roux. YUM!!! Cheap but easy dining, especially on a cold winter day!!!
Quick, easy and cheap. Especially delicious when eaten with the Light Wheat Bread from "Bread Baker's Apprentice"