Cream of Potato and Vegetable Soup
truebrit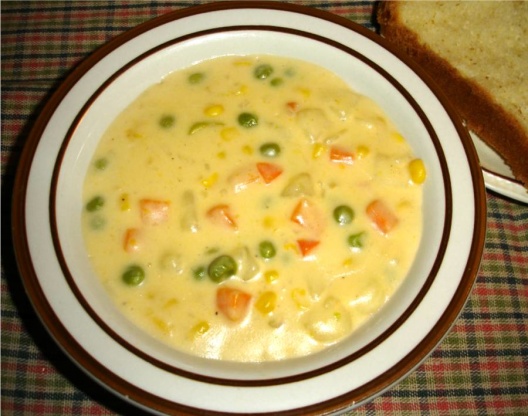 I made this potato soup for a family get-together and people were scraping the bottom of the pot. It is very good and easy to put together. I used milk to keep it more healthy, but I'm sure the half-and-half would make it even better.

Excellent! I doubled the recipe, and extended the cooking time for the potatoes, as I wanted them to be soft. I used a 16 oz. bag of frozen peas & carrots, then added about 6 oz. of corn. I used 3 cups of milk, and one cup of heavy whipping cream. I also added 2 cups of shredded cheddar cheese at the end of the cooking time. The soup was delicious! Everyone had more than one helping, so that tells you how good it is! (I'm glad I doubled the recipe!)
Melt margarine in large saucepan or Dutch oven over medium heat.
Stir in onion; cook 2 to 3 minutes or until crisp-tender.
Add broth, potatoes, salt and pepper.
Cook 10 to 15 minutes or until potatoes are just tender, stirring occasionally.
In small bowl, combine flour and half-and-half; mix well.
Stir into potato mixture; add frozen vegetables.
Cook uncovered for 8 to 10 minutes or until vegetables are crisp-tender and soup is throughly heated.