twissis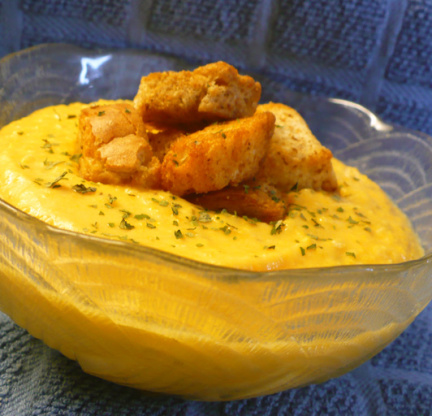 Rich tasting, warm and comforting. I had a recipe I loved for this soup, but the original called for a lot more butter and 2 cups of heavy cream. I didn't really want to save this soup for special occasions only, so I attempted to reduce the fat & calories by reducing the butter and replacing the cream with evaporated milk - I have even tried evaporated skim milk with success (but it is better with whole evaporated milk). If I am serving this to guests, I use the half-n- half, but for just me I like it with the milk. I have never missed the cream in this.

There is a thread on carrots going and it reminded me that I never reviewed this.
I really enjoyed this recipe. I did use fresh ginger vs powdered and used half and half (not a fan of evaporated milk). I also added 1 small clove of garlic. I used vegetable broth as I wanted to keep it vegetarian which tasted very very good. I also added a bit of fresh parsley and garnished it with a few chives.

But I don't think the small amount of garlic or parsley changed the flavor. It was good as is. A very easy, warm comfort soup. Will definitely make it again!
Thx Heather
kim
In a large stockpot, melt butter and saute onion until soft and tender, about 5 minutes or so.
Add carrots, potatoes, chicken broth, and ginger powder.
Cover and cook on medium heat 30 minutes or until veggies are very tender.
Remove from heat and let cool 15 minutes.
Using a stick blender, puree the soup right in the pot (or pour some into a blender and puree- you'll have to do this in batches though).
Return to heat and add milk, rosemary, salt, and pepper.
Cook over low heat until heated through, maybe 5 minutes or so.