Miss V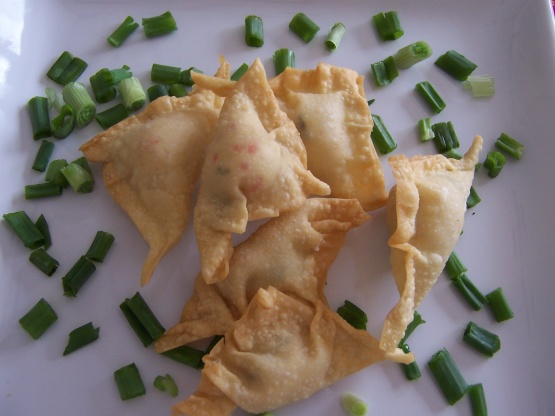 You can make the filling the day before and 1 hour before cooking remove from fridge. Very yummy stuff!

Top Review by tgobbi
Here's a little tip for making crab Rangoon: make sure you squeeze out all the air before sealing the wonton. If you don't a huge bubble will form when they're deep fried causing them to pop open. There are 2 bad things that occur when that happens: the filling gets very greasy; and you get very burned with spatters of hot oil.
Whip together the sour cream, cream cheese and soy sauce and sugar until smooth.
Fold in remaining ingredients (except wrappers) Heat oil to med-high and you want it around 1 1/2-2 inches deep.
Place a small bowl of water on your work surface and lay out 6 wrappers, and place around 1 1 1/2 t's in the center of each wrapper.
Moisten edges, bring up corners and pinch together, along with sides-you dont want filling to float away.
Place all 6 in the hot oil and repeat process.
By the time you have the next set of 6 ready to crimp it should be time to turn the rangoon's.
You want them a nice golden color.
When done remove with a slotted spoon and drain on paper towells.
Repeat until done.
Try to share.