SharonChen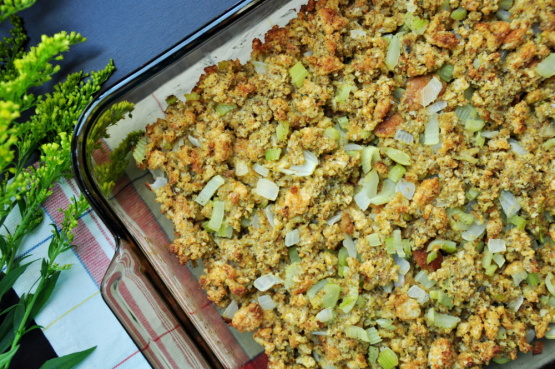 This is my favorite Cornbread Dressing I use for special holidays. I make my own white bread using my bread machine and my own Skillet Cornbread to use in this recipe. If you prepare the bread ahead of time, you can freeze them until ready to use. I really like this dressing. It is easy to do and has a great flavor. I like to add fresh mushrooms to the mix. Happy Holidays!

Unbelievable! I made a side of this because some of us Southerners just have to have our cornbread stuffing and everyone just raved! It was the best I have ever had! Thanks a keeper! 1
2

cups chopped onions

2

cups chopped celery
1⁄2 cup butter

4

cups finely crumbled toasted bread (I use homemade)

4

cups finely crumbled cornbread (see recipe I posted for Skillet Cornbread)

1

tablespoon salt

2

teaspoons freshly ground black black pepper

1

tablespoon dried sage

2

teaspoons poultry seasoning
turkey broth (from simmering turkey giblets with 3 1/2 cups water for 45 minutes. You can use unused portion to ma)

4

large eggs, beaten
Melt butter in a skillet; add the onions and celery and saute until tender.
Combine toasted bread and cornbread in a large bowl and mix.
Add onions and celery plus their cooking liquid, the salt, pepper, sage, and poultry seasoning and mix throughly.
Using a bulb baster, add just enough turkey giblet broth to make a very moist mixture, then stir in the eggs and scrape the dressing into a large greased baking pan or dish.
Bake in 400 degree F oven until dressing is nicely browned, about 30-40 minutes.