I'mPat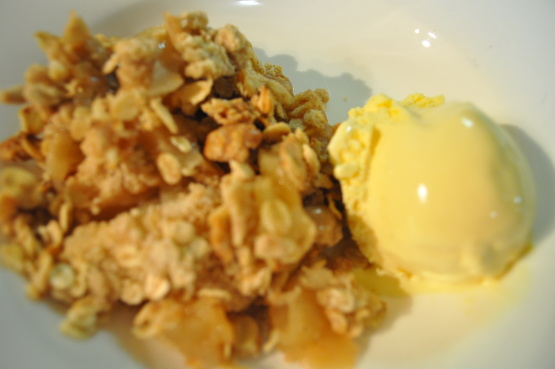 A perfect, basic apple crisp recipe. Add raisins or cranberries if you like. I use Granny Smith apples but you can use whatever kind you've got.

Top Review by I'mPat
I scaled this back for 4 serves for 3 and 2 ended up eating 3/4 of it (I didn't really feel like it but that is not abnormal when it comes to dessert) and because of dietry needs I did use no sugar maple syrup and the spoonful I did taste was quite delicious though the topping was rather pale. Taking into consideration Mom22LE review I baked with the lid on after putting on the crisp topping with the idea that the last 10 minutes would brown it without drying it but that was not the case so I gave a light spray with canola oil spray and put back in the oven but it took 25 minutes before it started to brown so in making again I think I will stick to the recipe and see how we go. Thank you avocadosammich, made for Bargain Basement.
Preaheat oven to 350 F.
In a large bowl squeeze lemon juice over sliced apples.
Add the arrow root and spices making sure all apples are coated.
Move apple mixture to the baking dish and drizzle the maple syrup over it.
Cover with tin foil and bake for 35 minutes.
Meanwhile prepare the topping.
Sift dry ingredients together, and in a seperate bowl, mix wet ingredients well.
Fold wet into dry mixing with a fork as you go along, until well coated and crumbly.
When apples are done baking, remove from oven and toss, then flatten them evenly with the back of a spatula or wooden spoon.
Sprinkle the topping evenly over the apple mixture and bake uncovered for 25-30 minutes, until top feels crispy.
Serve warm with vanilla ice cream.