Chocolate Orange Cheesecake With Orange-Tangerine Glaze
swissms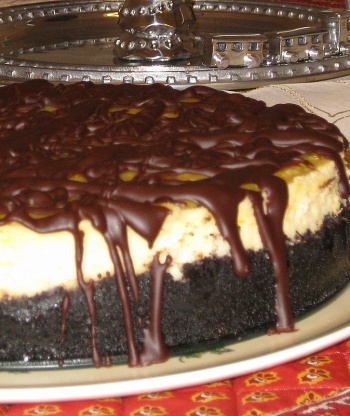 I love the combination of chocolate and orange and they unite wonderfully in this recipe. We usually make this for Christmas but it would be good anytime of the year. If you cannot find orange and tangerine marmalade, substitute orange marmalade. I like to drizzle chocolate ganache over the marmalade glaze which creates a beautiful presentation. Make the cheesecake 1-2 days in advance to allow the flavors to bloom. From Gourmet magazine, January 1995.

Wasn't able to find the indicated marmalade this time around, but I now have a lead on where I might get some! Meantime, I made this with a quality orange marmalade & Triple Sec, while also using generous measures of the orange zest! AND, I used your suggested use of chocolate ganache on top of everything, & it all came together in an ABSOLUTELY WONDERFUL TASTING CHEESECAKE ~ Definitely a keeper of a recipe! Thanks for sharing it! [Tagged & made in Please Review My Recipe]
For crust

30

chocolate wafers, ground fine in a food processor (1 3/4 cups)

59.14

ml unsalted butter, melted

For filling

680.38

g cream cheese, softened

295.73

ml sugar

236.59

ml sour cream, at room temperature

29.58

ml freshly grated orange zest (from about 4 navel oranges)

59.14

ml fresh orange juice

29.58

ml fresh orange juice

29.58

ml Grand Marnier or 29.58 ml other orange-flavored liqueur

2.46

ml salt

59.14

ml all-purpose flour

4

large whole eggs

1

large egg yolk

For glaze

177.44

ml orange and tangerine marmalade (about 7 1/2 ounces)
Crust:.
In a small bowl stir together wafer crumbs and butter until combined well. Pat crumb mixture onto bottom and 1 inch up side of a 9-inch springform pan and chill crust 30 minutes.
Filling:.
Preheat oven to 300°F
In a bowl with an electric mixer beat cream cheese until light and fluffy. Beat in sugar gradually until mixture is combined well. Beat in sour cream, zest, orange juice, liqueur, salt, and flour. Beat in whole eggs and yolk, 1 at a time, beating well after each addition.
Wrap bottom and side of springform pan with three 14- by 12-inch pieces of foil, 1 at a time, arranging each piece in a different position to make sure foil is at least 1 1/2 inches up side all around. Put pan in a large baking dish and pour filling into crust. Put dish in middle of oven and with a measuring cup slowly add enough water to it to reach 1/4 inch up side of springform pan, being careful not to let any water inside foil. (Cooling in water bath prevents cheesecake surface from cracking.)
Bake cheesecake 1 hour 15 minutes, or until edges are just set but middle still trembles slightly. Turn off oven and let cheesecake stand 1 hour (cheesecake will continue to set as it stands). Remove dish from oven carefully and transfer cheesecake in pan to a rack to cool completely. Remove foil and chill cheesecake, covered loosely, 6 hours or overnight.
Glaze:.
In a small saucepan melt marmalade over moderate heat, stirring, and cool to warm.
Remove side of springform pan and spread marmalade evenly on top of cheesecake. Chill cheesecake 2 hours (glaze will soften if served at room temperature).