Redsie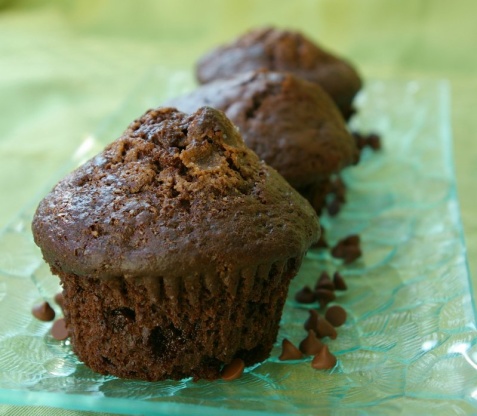 The muffins itself are not a dark chocolate but the chocolate chips is what adds to the flavor chocolate flavor :)

Ooooh, they smell good. I tried mine a little differently. I chopped up chocolate from a bar to make the chips, (big chips at that ;) ) partly because I just love Galaxy Muffins and wanted to make something as similar as I could. I will say, that is probably why they aren't as upright and peaking at the top as yours in the picture. But I may try another approach next time as the chips were big and heavy. I shall ice my muffins with just chocolate. I'm sooooo looking forward to digging into them properly (I took a little bit off the edge of one of them, it was brilliant!) Thanks for this recipe!
Set oven to 350 degrees.
Set oven rack to second-lowest position.
Grease 12 regular size muffin tins or line with paper liners.
In a medium bowl sift together the flour with cocoa powder, baking powder, baking soda, salt and cinnamon.
In another large bowl whisk togther milk, egg, oil and vanilla until well combined.
Add in the dry ingredients using a wodden spoon until just combined (do not overmix!).
Mix in the chocolate chips.
Divide the batter evenly between the muffin tins.
Sprinkle white sugar over the top of each muffin (use any amount of sugar desired).
Bake for about 20-25 minutes or until the muffins test done.