Prep 30 mins
Cook 45 mins
This is a recipe I clipped from Newsday years ago, when I was learning to cook as a teen. Still works today
Directions
Cut the chicken into cubes and toss with the flour, salt and pepper.
Heat a little oil in a large skillet and brown the chicken until almost cooked through. Remove from the pan, and sautee the onion and garlic until translucent.
Return the chicken to the pan, adding the tomatoes, broth and paprika and simmer for 30 minutes.
Add the mushrooms and continue cooking for another 15 minutes,.
5 minutes before serving, swirl in the sour cream.
Serve over noodles, spaetzle, couscous or polenta.
Reviews
Most Helpful
Since I'm a vegetarian I made this with a chicken substitute, and since I don't eat mushrooms I left them out entirely. I had one 8 ounce package of chicken strips, but didn't change the proportion of other ingredients so the dish came out very saucy, which is how we like it. I served it over rice. Along with a cabbage side dish, my BF (whose ancestry is Hungarian/German) really enjoyed his dinner. Thanks! P.S. We also discovered that we prefer this dish with the bell peppers and tomatoes as extra veggies.:D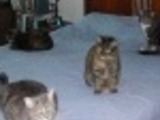 In the interest of full disclosure, the first time I had this Di Writer made it for me and I just loved it. Thrilled to have it posted here so that I can make it anytime. It's so easy to make and has lots of wonderful flavors. Though you can use either wine or broth, use the wine as it adds a lot to the final dish. Made mine with petite diced tomatoes and enjoyed the little bits of tomato in the sauce. Thaought it went quite well with the onions and mushrooms. I have also made this without the flour and with fat-free sour cream to make it consistent with the WW Core program. The sauce is a bit looser but just as good. And yes the wine is worth the 1/2 point. Thanks DiWriter!