Tee Lee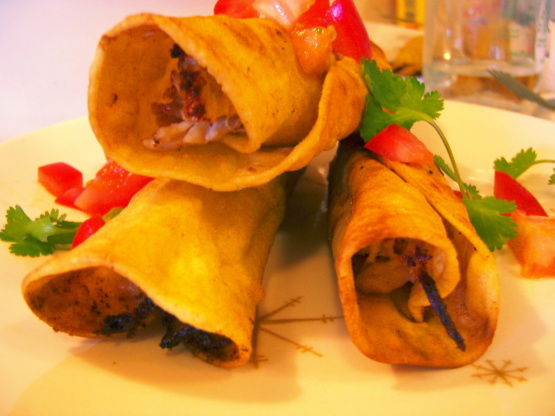 My favorite flauta recipe, from a Mexican cookbook by Jane Milton. The addition of cheese inside makes them very tasty! I serve these with crema (or sour creme) and homemade salsa. Cook time is for total endeavor, but doesn't include chicken prep as I often use pre-cooked or leftover chicken.

Excellent recipe. I tweaked it by adding a third clove of garlic, adding cumin and measuring the spices (1 tsp salt, 1 tsp cumin and 1/2 tsp black pepper). See my tweak for additional details. Very tasty! Thanks for sharing!
1

onion

1

tablespoon vegetable oil
3 1⁄2 ounces queso fresco, crumbled (or sub. feta cheese)
oil (for frying)
salt and pepper (to season)
Bring saucepan of water and chicken to boil.
Reduce heat to simmer for 15-20 minutes, until chicken is cooked.
Remove from pan.
After chicken has cooled, shred with 2 forks and set aside.
Chop onion and mince garlic.
Add onion and garlic to heated oil and sauté on low heat until onion is soft, but not browned.
Mix in chicken and season with salt and pepper.
Remove from heat and add in cheese.
Mix well.
Soften tortillas in microwave for 30 sec.
Heat frying oil until small piece of tortilla floats and bubbles.
Place chicken mixture in each tortilla, roll up tightly and secure with toothpick.
I recommend putting tortilla in oil immediately, as they tend to crack and come apart if left sitting.
Turn flautas frequently, cooking 2-3 minutes or until golden.
Drain on paper towels and serve with creme and salsa, if desired.