Lainey39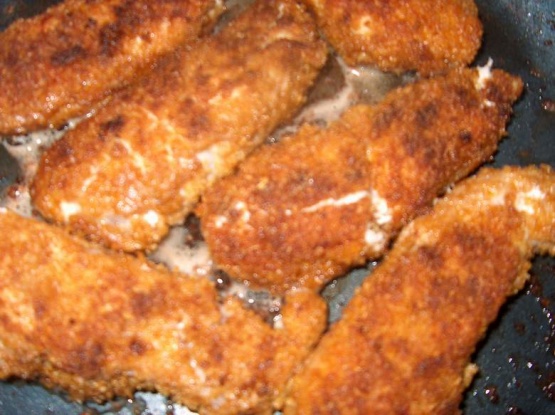 These are sooo good and sooo easy!!! I used sliced boneless/skinless chicken breasts but the packaged "chicken tenders" would work just as well. The amount of the ingredients and cooking time are spot on (no waste & no guesses on the cooking) -- thanks very much for that. As advertised, they are crispy on the outside & tender inside. I just polished off the leftovers for lunch...still yummy!
Cut chicken breasts lengthwise into strips (chicken fillets can be left as is). Coat the strips with flour then dip each in the beaten egg.
Roll the strips in the cornflakes.
Set the strips on wax paper until ready to cook.
At this point the strips can be refrigerated for use the next day.
In a non-stick skillet over medium heat, melt half of the margarine. Stir in half of the canola oil.
Add half of the chicken and cook for 3-5 minutes per side or the until the coating is crisp and the chicken is no longer pink inside. Remove from the pan and keep the fingers warm.
Repeat with the remaining margarine, oil and chicken fingers.
*Oven bake method: Preheat oven to 400 F.
Put chicken fingers on a greased cookie sheet and bake for 15 to 20 minutes turning once. The coating should be crisp and the chicken should be juicy without any pink inside.