Chicken Corn Chowder (Disney Style)
Bayhill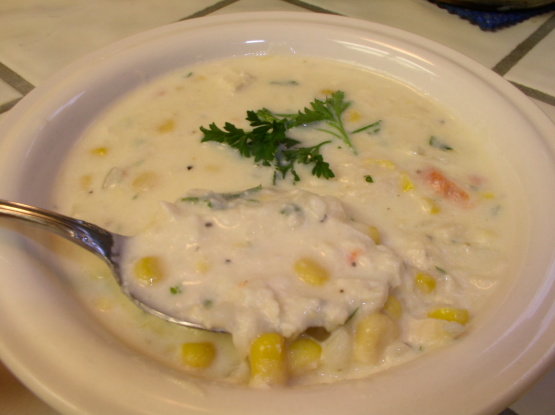 I got this recipe from the chef at Disney's African Restaurant Boma. I fell in love with this soup, and when I asked for the recipe, they wrote it right down for me! Now, I can have a bit of Disney magic at home!

Got the same recipe from Disney too! We all loved it so my mom asked for the recipe. They took her email and by the time we got back from our trip it was in her inbox. I have to admit - I think they left a "secret" ingredient out though. We still love this soup but always add more seasonings and hot sauce to it trying to get that "same" taste that we had at Disney. Maybe they do add a little Disney magic to it.
Bring chicken stock to a boil.
Add milk, cream, chicken, potatoes, red peppers, onions, corn and sugar.
Simmer for 40 minutes.
Add parsley and hot sauce: simmer for 5 minutes.
ENJOY!