Cauliflower With Mushrooms and Onions
Bergy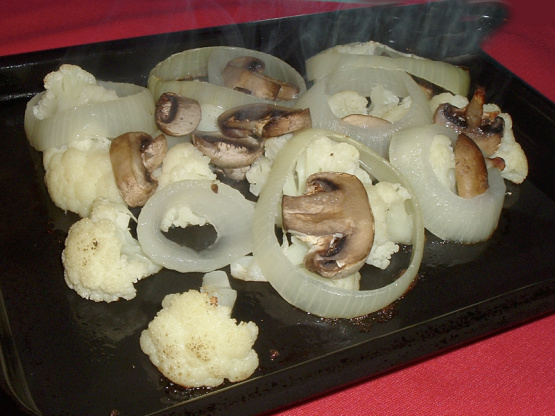 This is a good for you, easy to make recipe. The recipe comes from Diabetic Gourmet.

This was wonderful! I have to admit I did tweak it to meet our tastes; added some hot pepper flakes and some garlic. It was so easy to make, and I'll definitely do this one again.
Preheat oven to 425 degrees; Coat a 11 X 13 inch roasting pan with nonstick cooking spray.
Place califlower, onion rings, and mushrooms in the pan, sprinkle the vegetables with salt and pepper and drizzle with olive oil, toss to mix well.
Cover the pan with aluninum foil (Release foil works BEST), Bake for 10 minutes; remove foil and bake another 15 to 20 minutes stirring every 5 minutes, or until vegetables are tender and lightly browned, serve hot.