Carrot and Zucchini Bars With Citrus-Cream Cheese Frosting
Mary K.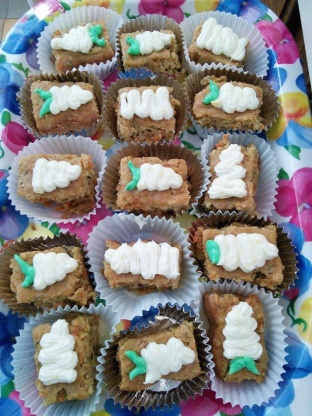 A twist on both carrot cake and zucchini bread. Yummy! From Better Homes & Gardens, Aug. 2001.

I am reviewing the cake only as I used a Browned Butter Frosting (more on that later). Anyway, this cake/bar really could use a pinch of salt. I felt the cake had good potential, but it really fell flat for my family. We ate the frosting and pitched most of the cake.
Preheat oven to 350°F.
In a large bowl, combine flour, brown sugar, baking powder, ginger and baking soda.
In another large bowl, combine eggs, carrot, zucchini, oil, honey, vanilla and walnuts and raisins, if used.
Add carrot mixture to flour mixture, stirring until just combined.
Spread batter into an ungreased 13x9-inch baking pan.
Bake for 25 minutes or until a toothpick inserted in the center comes out clean.
Cool in pan on a wire rack.
Frosting:in a medium mixing bowl, beat cream cheese with powdered sugar with an electric mixer on medium speed until fluffy.
Fold in lemon/orange zest.
Frost and store in the refrigerator.
Cut into bars to serve.