Cajun Quiche in a Rice Crust
Redsie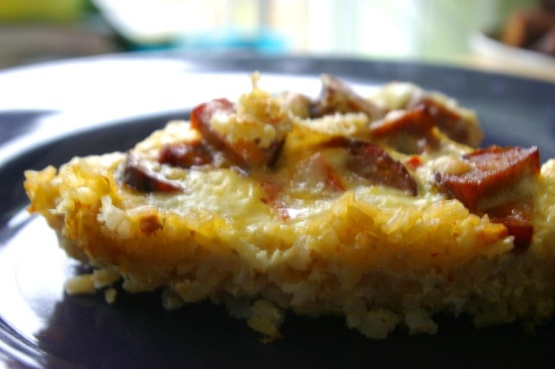 This recipe came from Cooking Light magazine, we aren't usually quiche fans but this was awsum! A tip: I like to put leftover cooked rice in the freezer, this way I always have precooked rice when I need it and I don't waste the leftovers. Also I add 1-2 tablespoons of Cajun seasoning to the egg mixture. Crust browns nicely! Hope you enjoy!

This is the first quiche I've ever made & I have to say it was AWESOME! Even my picky 7 year old loved it and my DH declared it a keeper. Thanks for posting!!
2

cups cooked white rice

1

teaspoon garlic powder

1

teaspoon onion powder
1⁄2 teaspoon salt

1

large egg, lightly beaten
cooking spray

1

ounce cheddar cheese, about 1/4 cup shredded
1⁄2 cup onion (I use sweet onions, diced)
1⁄2 cup celery, diced
1⁄2 cup red bell pepper, diced

1

teaspoon garlic, minced

3

ounces andouille sausages (about 2/3 cup) or 3 ounces kielbasa, chopped (about 2/3 cup)
3⁄4 cup egg substitute

2

large egg whites, lightly beaten
1⁄4 cup plain fat-free yogurt
1⁄4 teaspoon salt
1⁄4 teaspoon hot pepper sauce (such as Tobasco or Wing-It, to taste)

1

ounce cheddar cheese, about 1/4 cup shredded
Preheat oven to 375.
Prechop onion, celery, red pepper, sausage (or kielbasa).
To prepare crust, combine first 5 ingredients in a bowl and mix well. Spread mixture into bottom and up sides of a 9-inch pie plate coated with cooking spray. Sprinkle crust evenly with 1/4 cup cheese.
To prepare filling, heat a medium nonstick skillet over medium-high heat. Coat pan with cooking spray. Add onion and next 4 ingredients, saute 5 minutes. Spoon into prepared crust.
In a separate bowl combine egg substitute and next 4 ingredients, stir with a whisk until well blended. Pour egg mixture over veggie and sausage mixture in rice crust. Sprinkle with 1/4 cup cheese.
Bake at 375 for 30 minutes or until center is set. Let stand 5 minutes before serving.
Enjoy!