Braised Pork Chops With Sauerkraut
Annacia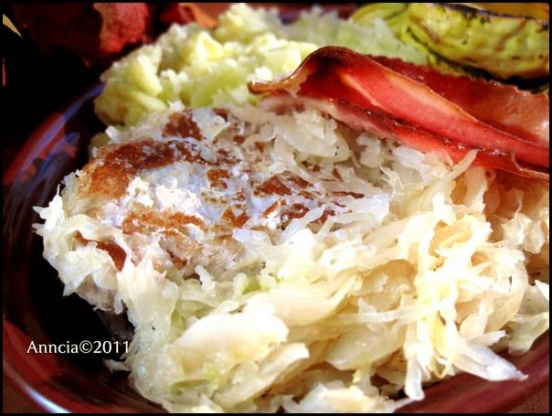 I have been making this recipe for more years than I care to admit to. It's simple to put together and very flavorful. I usually serve with boiled potatoes.

This was a real hit with us. We have sauerkraut seldom but we do enjoy it. I used a wine sauerkraut with it's liquid and no beer. Also the idea of boiled bacon didn't appeal to me so I topped the dish with it and then put it in the oven @ 400 for about 45 mins. this is one fine Fall dinner.
Melt the butter or lard in a skillet and quickly brown the pork chops on both sides. Place on platter and set aside.
Arrange the bacon in the bottom of a large dutch oven or braising pan.
Rinse the sauerkraut in a colander and squeeze out as much water as you can. (You can skip this step if you like a stronger flavor). Place half of it on top of the bacon.
Place the sliced onions over the sauerkraut and sprinkle with 1 tsp freshly ground black pepper.
Arrange the pork chops on top of the onions, and pour in any collected juices.Sprinkle with salt, pepper and the garlic.
Add the rest of the sauerkraut, sprinkle with pepper and pour over as much beer as you need to cover.
Bring to a boil, reduce to a simmer and cook one hour. The pot should never get completely dry.
Note: I find 2 lbs sauerkraut to be enough, but if you have hearty eaters, you might want the larger quantity. I do not add additional salt.