Rita1652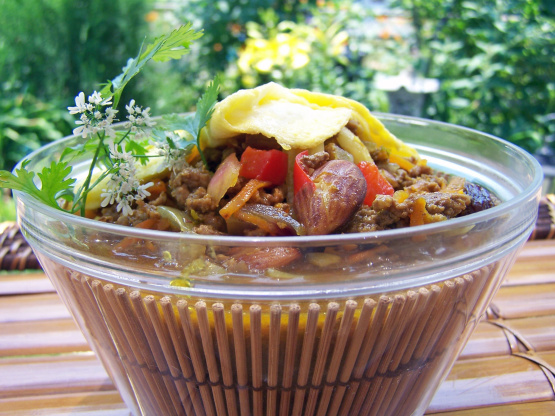 From Every Day with Rachael Ray February-March 2006. Bobotie is a slow-baked South African sweet-spicy meat casserole.

This was really good. I am vegetarian so I substituted the sirloin with ground meat alternative and beef broth with veggie broth. "Twas still fabulous, thanks!
In a dry skillet over medium heat, lightly toast the almonds, about 3 minutes. Set aside.
Heat olive oil in a large, deep skillet over medium-high heat. Add the meat and spread it in an even layer. Let it caramelize and deeply brown, then stir it and move it to the sides of the pan.
Add the bay leaf, celery, carrot, onion, peppers and garlic to the center of the pan, season with salt and black pepper and cook a couple of minutes, then stir into the meat.
Add the raisins, chutney, broth, curry paste, turmeric, coriander and lemon zest. Stir vigorously and simmer until the broth evaporates and the meat casserole thickens. Remove the bay leaf, stir in the nuts and reduce the heat to low.
Heat a small skillet over medium heat. Beat eggS with a pinch of salt and half-and-half. Add 1/6 OF egg mixture to the pan with a pat of butter and cook like a thin omelet, turning with a fork or thin spatula, about a minute on each side.
Transfer to a plate and repeat to make 6 mini omelets.
Spoon the meat into bowls and top with the omelets. Garnish with the chopped cilantro and serve.