mtnmel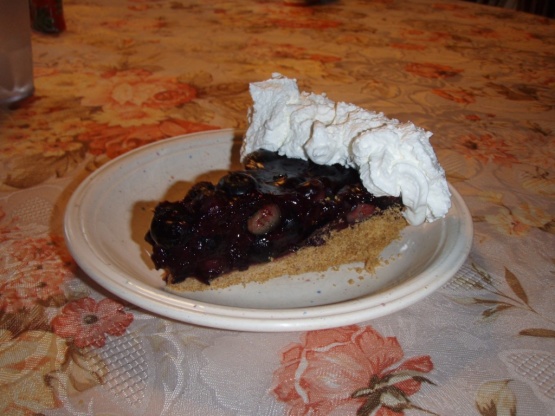 A retro dessert for today's rushed lifestyles. Perfect for summer, this refrigerator dessert is quick, easy, delicious and can be made the day before. From "Ice Box Pies" by Lauren Chattman. Prep time includes chilling.

A little too much cinnamon I thought. Good treat to store away in the freezer. I used a regular pie crust, so maybe that was the problem.
In a small bowl, combine cornstarch and water until smooth.
In a medium saucepan, combine 3 cups blueberries, sugar, cinnamon, and nutmeg.
Stir in cornstarch mixture and cook over medium heat, stirring constantly, until thickened.
Cook another 2 minutes, remove from heat and stir in butter and remaining 2 cups of berries.
Pour into crust, cover with plastic wrap and chill 6 hours or until set.