flower7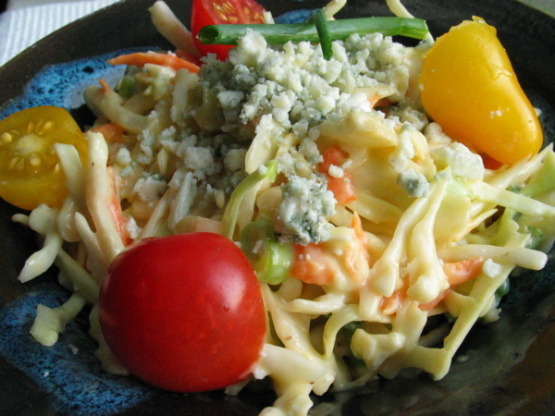 Adding crumbled Blue cheese to homemade coleslaw provides a burst of flavor. I have served this coleslaw along with my Codfish Cakes recipe for a complete meal. Land-O-Lakes Cookbook.

When I first tasted this I was thinking the dressing was too sweet but after adding the additional blue cheese on top, the flavor was much better balanced. I think I would still cut back on the sugar just a tad the next time I make this. Otherwise, it was great! Thanks for the recipe!
in medium bowl stir together all dressing ingredients. cover and refrigerate at least 2 hours.
in large bowl combine cabbage, carrots and green onions.
just before serving stir together dressing and cabbage mixture.
sprinkle with 1/4 cup Blue cheese.
garnish with cherry tomatoes, serve immediately.