Beef With Cabbage and Mushrooms
BarbryT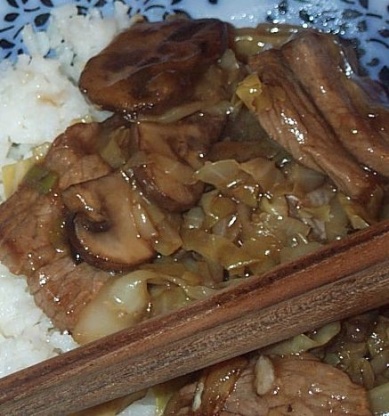 Serve by itself or over noodles or rice.

I made this recipe for my Japanese daughter in law who is an excellent Japanese cook. I really like the simplicity of the recipe and she liked it so well that she asked ME for the recipe! Only change I made was the broth. I had no beef broth so I substituted vegetable broth. Will make this again! Thanks
In a small bowl whisk together the 3/4 cup beef broth, cornstarch, soy sauce, ginger, sugar, pepper and optional salt; SET ASIDE.
In a large skillet or wok, heat oil until hot. Add the flank steak and crushed garlic cloves; saute until almost cooked, about 2 to 3 minutes; remove and set aside.
To the hot empty skillet/wok, add the mushrooms, cabbage, sliced onion, and 2 tablespoons beef broth. Cook and stir until tender-crisp, about 4-6 minutes.
Pour the set aside soysauce mixture into the skillet with the veggie mixture and cook; stir until thickened, about 2 minutes.
Stir in the set aside beef and heat through.