Szechuan Noodles With Spicy Beef Sauce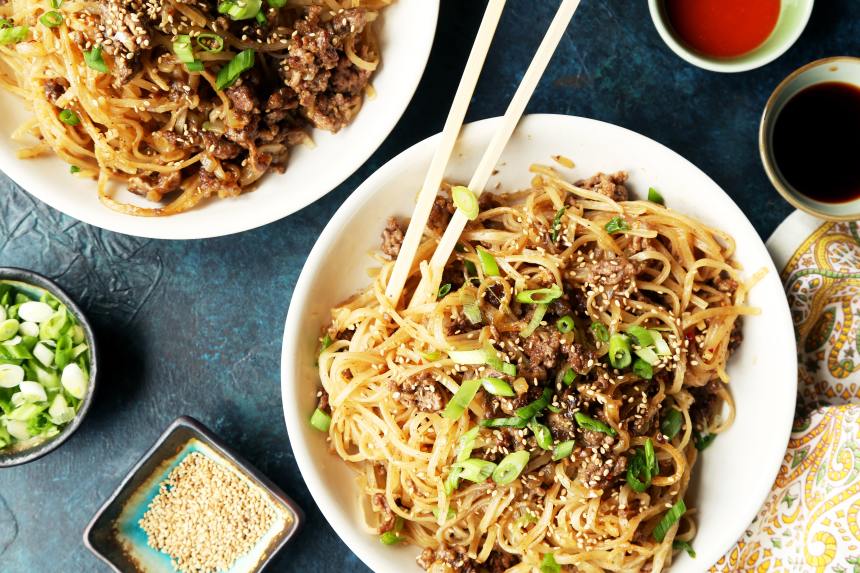 photo by Jonathan Melendez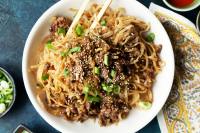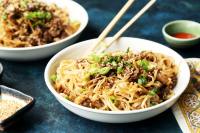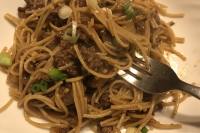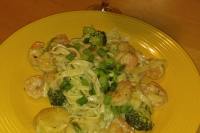 Ready In:

30mins

Ingredients:

12
directions
Brown ground beef in a large skillet, stirring until it crumbles; drain and keep warm.
Pour sesame oil in pan and heat till hot. Saute onion and next 4 ingredients hot sesame oil until tender.
Combine cornstarch and beef broth, whisking until smooth.
Stir broth mixture, hoisin sauce, and soy sauce into onion mixture.
Bring to a boil, stirring constantly; boil, stirring constantly, 1 minute.
Stir in ground beef.
Toss with hot cooked pasta, and sprinkle with sliced green onions.
Yield: 4 servings.
Questions & Replies

I am assuming that when the recipe calls for sesame oil, it is referring to toasted sesame oil. In my experience with oriental cooking, the toasted sesame oil is added later in the recipe so that the essence and flavor are not destroyed by exposure to excessive heat. I've never used a recipe where the sesame oil is used to sauté the veg. I would think you would sauté the veg in a small amount of vegetable oil, the add the 2Tbs toasted sesame oil when you stir in the ground beef. What's the general feeling?

 
Reviews
Based on the previous reviews I decided to use 2 tbsp oyster sauce, 2 tbsp hoisin sauce and 3 tbsp soysauce. I also used ground chicken and chicken broth. The flavour was fantastic and it was super easy to throw together. Next time I will add som vegetables like cabbage, snowpeas. Made for Everyday is a Holiday.

 

This is my husband's absolute favorite meal. Definitely something different! I literally throw everything into the crockpot except for the noodles and let it cook all day. I don't even brown the onions or meat in sesame oil beforehand, I just throw it all in raw. Then serve it over noodles. I do up the soy sauce by 1 TBSP and I only use 2 TBSP of hoisin sauce like others suggested.

 

This one really surprised me! Followed the recipe exactly and it tasted amazing! It really kills the monotony of the same ol' ground beef dishes. It had the perfect Asian kick that I love. The ginger gave it an amazing flavor. This one was gobbled up fast! No leftovers on this dish! My picky 19 year old daughter even loved it...onions and all!!

 
Tweaks
I make this with chicken and make it saucier so add more beef broth. I have done it with mince as well but prefer diced chicken breast and so does my family. I either serve it with rice or pasta. Either way its 10/10 from my family!! It's simply gorgeous even though i cannot pronounce what it's called LOL!

 

I came across this recipe while searching for a simple weeknight ground beef meal. The idea sounded interesting but a little bland, so I gave it my own twist. I used coconut oil rather than sesame oil to saute the onion, garlic and ginger, and used chili-garlic sauce in place of the dried red pepper. I halved the amount of hoisin sauce and made up the difference with oyster sauce. I used a bag of fresh Asian stir-fry veggies, nuked for 3 minutes and then added to the skillet with the ground beef in step 6. Served it all over cellophane noodles. This was an excellent dinner that my family enjoyed and, with the addition of the colorful vegetables, it looked great on the plate. I give the original recipe four stars because I feel like it is a fantastic foundation recipe, just waiting to be built upon.

 

I've been making this near on 10 years according to all my reviews below and we still love it and eat it regularly... I usually always make a double batch (2kgs beef mince)....I always use the garlic, ginger and sesame oil, never the red flakes tho (I'm not a fan of hot!), but I sometimes mix the full beef stock up with beef/vege (2 beef/1 vege oxo cube to a 2 and 1/2 cups water) or 2 beef/1chicken (it's still soo goood), and I always use 3-4 big tblspn dollops of oyster sauce and only 1-2 smaller of Hoison as I prefer the umami/savoury flavour rather than the sickly sweet hoison taste...however, I use either normal soy or sweet soy depending on what I feel like or have, 2-3 nice tblspn big squirts. (I also use flour not cornstarch, no difference). I also like to sometimes add MSG cos it rounds out the flavour in every dish and I just love MSG (it's beautiful in a chicken stock/cream mac n cheese too, try it, you'll see!) I also always use udon noodles and don't forget the spring onion and dribble of sesame to serve, alongside crusty garlic bread, yum!