Beef, Vegetables and Rice Noodles With Oyster Sauce
katew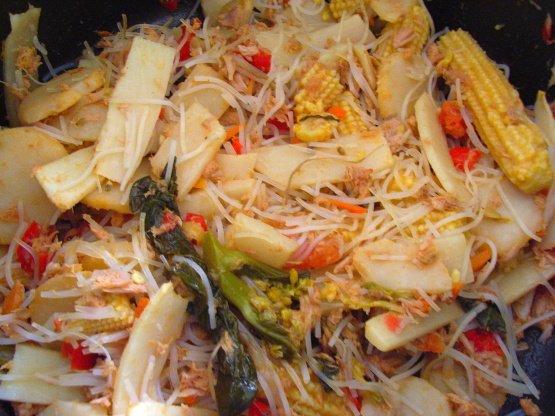 Based on a recipe from A-Z of Asian Ingredients, pretty well one pot cooking.
Give vegetables a light steam or microwave for 1 minute.
Pour boiling water over noodles, separate them and once softened drain and set aside.
Cut fat of steak (I used 1.1k to get 800 grams), gently pound out and cut into small squares.
Heat the wok over high heat, add 1 tablespoon and cook the beef in batches until brown (you may need to add more oil as cooking) and set aside.
Reduce heat to medium and add the remaining oil and garlic and cook for 30 seconds and then add the noodles, chilli, soy sauce and oyster sauce and stire fry for 2 minutes.
Return beef to the wok and add the vegetables and cook to all is heated through.