Banana Chocolate Chip Muffins
Rhonda J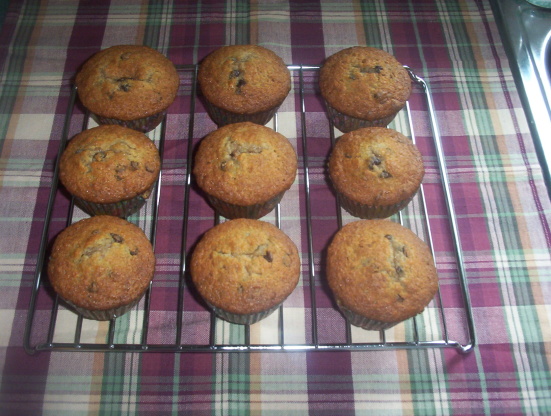 My wife has made these a half dozen times since finding the original recipe in a Penzey's spice catalog. I was originally rather dubious about combining bananas and chocolate chips, but these taste great.

I have been making the Penzeys recipe since it was published in their Spring 2003 catalog. The recipe as they published it calls for only 1 cup of banana (about 2), 1/2 cup chocolate chips and no pecans. Since this recipe calls for more banana I can see why you would need to add more flour. These are fantastic muffins. I have also poured the batter into a loaf pan with great success. One change that I have made to the original recipe is that I substitue half wheat flour.
Grease two 12 cup muffin pans and set aside.
Preheat the oven to 350 degrees F.
Cream together the butter and sugar until light and fluffy.
Add the eggs one at a time, beating well after each addition.
Stir in the vanilla and mashed bananas.
In a separate bowl, sift together the flour, baking soda, salt, and cinnamon.
Mix the chocolate chips and nuts into the flour mixture, stir this into the bowl with the butter mixture, and mix until just blended.
Spoon the batter into the muffin pans, filling 22-23 holes 3/4 full.
Bake for 18-20 minutes or until a toothpick inserted in the center comes out completely clean.
Allow muffins to cool about 5 minutes, and carefully run a dinner knife around the outside of each muffin to loosen.
Allow muffins to cool completely before removing from pans or they will break up.
If the bottoms are still damp, set on a wire rack for a few hours before wrapping.
These freeze great.