Baked Stuffed Shrimp with Crabmeat Stuffing
dyer148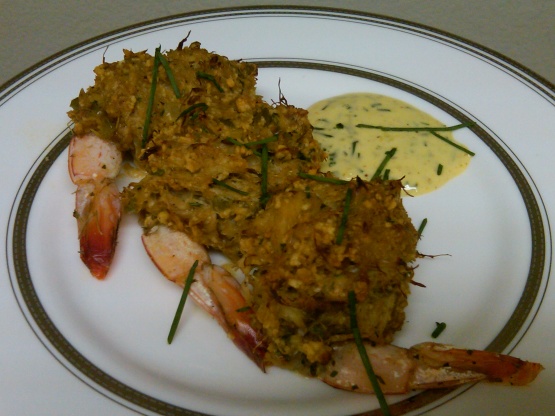 This dish is part of our family Christmas Eve celebration every year. I love baked stuffed shrimp, but so many restaurants here prepare their shrimp piled high with Ritz crackers drenched in butter. I think the crabmeat stuffing adds somethng a bit more special. Prep time includes the stuffing's cooling time.

Top Review by nunu17
This is the EXACT same recipe I just read over on the Food Network site, Emerils Favorite Childhood recipe for baked stuffed shrimp. Word for word.
1

lb fresh lump crabmeat, shells removed (or 2 cans of canned crabmeat if fresh isn't available)

2

teaspoons cajun seasoning or 2 teaspoons Old Bay Seasoning (or to taste) (optional)

4

tablespoons butter, plus

3

tablespoons melted butter
1⁄2 cup onion, minced
1⁄4 cup celery, minced
1⁄4 cup green bell pepper, minced
1⁄4 cup chopped fresh parsley

1

tablespoon garlic, minced
1⁄4 cup mayonnaise

1

egg, beaten

3

tablespoons fresh lemon juice

1

tablespoon Worcestershire sauce

1

tablespoon hot sauce

1

cup buttery cracker, crushed
1⁄2 teaspoon salt
1⁄4 teaspoon fresh ground black pepper

2

lbs u- 12 shrimp or 2 lbs jumbo shrimp, shelled,deveined,and butterflied
Preheat the oven to 375 degrees.
Line your baking dish with foil, and butter or spray with non stick cooking spray.
Place the crabmeat in a large bowl and season with the Cajun Seasoning, Old Bay or salt and pepper, (your choice).
Cover and refrigerate until ready to use.
In your fry pan, melt 4 tablespoons butter over medium-high heat.
Add the onions, celery, and bell peppers and cook, stirring, until softened, about 4 minutes.
Add the parsley and the garlic, and cook, stirring, for 1 minute.
Remove from heat and let cool.
Add the cooled vegetables to the crabmeat and toss to combine.
Add the mayonnaise, egg, lemon juice, Worcestershire and hot sauce and stir gently.
Add 1 cup of cracker crumbs, salt and pepper to taste, and stir gently, being careful not to break up the crabmeat.
Spoon the crabmeat stuffing evenly into each shrimp (about 2 Tbsp), and place, stuffed sides up, in your baking dish.
Drizzle with the remaining melted butter.
Bake until golden, about 20 minutes.