Awesome Augratin Potato Balls
COOT226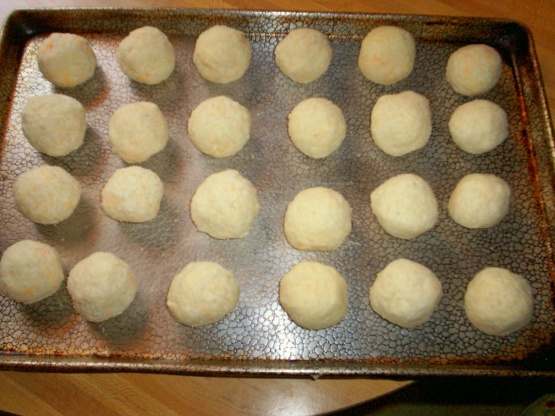 "Super Yummy small potato cakes. Make them - Freeze them, cook them and enjoy."

I LOVE this very versatile recipe! It's very forgiving (you don't have to have the exact amounts of any one ingredient). Another reviewer said they were dry and had little flavor - I disagree. Some people like more or less salt, pepper, onion, or whatever. Use some instinct to get the texture and flavor right by adjusting the amounts of sour cream, cream cheese, etc.

For the crust I used Italian-flavored Bread Crumbs since I didn't have the cereal in my pantry. "Salt & Pepper to Taste" I always say - the recipes try to give you a general idea of how much to use. I don't care for a lot of salt but I do like pepper. I thought the amounts were a good starting point.

I also baked them on either parchment paper or a well-seasoned baking stone and had no need to "oil the crap out of your baking pan" as one reviewer suggested.

You can use leftover mashed or baked potatoes too - whatever you have on hand. I bet you can even make them from instant mashed if you wanted to. These are fantastic to freeze and re-heat whenever you need them, so that is another big bonus in my opinion.
Bake potatoes, in oven at 350 for 1 hour 30 minutes. Cool, peel and shred.
In a large bowl combine dried onion, sour cream, cream cheese, butter, shredded cheese and seasonings. Mix in shredded potatoes until well combined.
Take an ice cream scoop and dip out mixture and roll into a ball. Roll the potato ball in Parmesan cheese/Cornflake mixture until well coated and place on a cookie sheet.
Bake in 425 degree F oven for 30 to 35 minutes until lightly browned. Continue making balls until all mixture is gone.
I bake all the potato balls. Cool and then place in the freezer. To use, if you choose to do it this way, then just cook the frozen potato balls on cookie sheet in oven at 350 for 45 minutes or heat in the microwave. These are delicious, and a family favorite.