The Perfect Burger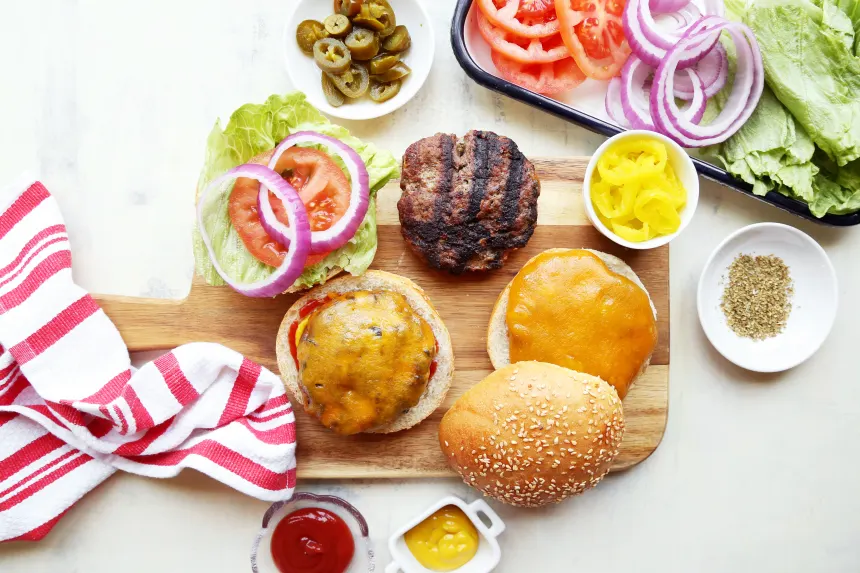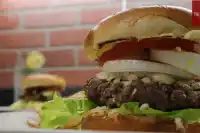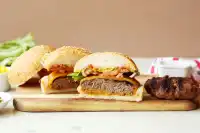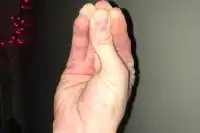 Ready In:

30mins

Ingredients:

22
directions
Lightly oil grill& heat BBQ to medium.
Whisk egg in a bowl& add next 6 ingredients.
Add any of the "stir-ins" that appeal to you.
Crumble in beef& using your hands or a fork, gently mix together.
Handle the meat as little as possible – the more you work it, the tougher it gets.
Gently shape (don't firmly press) mixture into burgers about ¾ inch thick.
Using your thumb, make a shallow depression in the centre of each burger to prevent puffing up during cooking.
Place burgers on the grill, close lid& BBQ until NO LONGER PINK INSIDE, turning once, about 6 – 8 minutes per side.
An instant read thermometer should read 160F.
Don't abuse your burgers by pressing with a spatula, pricking with a fork or turning frequently as precious juices will be lost!
Tuck into a warm crusty bun& add your favourite toppings.
Questions & Replies

Tweaks
Never mix ingredients in with your burger meat, it's common knowledge that it turns the texture to that of meatloaf and is a no-no among many cooks. You're making a burger, not meatloaf or meatballs. If you want to incorporate flavor into the burger put it on the outside. You'll end up with a way better texture in the end. Yes Gordon Ramsay does use egg as a binder in one of his recipes, but I'd only use that if your now meatloaf is too lean, or if it's so big it could fall apart without it, like it seemed to be in his recipe. So what to do: Be sure not to get too lean, 75-85% lean is my usual, 90% max. Don't put anything in the burger meat, put the mustard, salt, pepper, and minced garlic on the outside of your burger patty, and top the burger with thin onions, possibly Worcestershire sauce and the egg if you want to add those flavors in, otherwise dump them completely. The burger will have a better texture and be juicier if cooked correctly. Also the mustard being on the outside will promote browning without burning the inside like it does mixed into the meat.

 

Did this without the Worcestershire sauce (I don't eat fish) and with a teaspoon of curry powder instead of the mustard as I didn't have any, grilled on a grilling pan instead of a proper bbq, and it worked wonders, follow the instructions and the patties should hold easily. Can't wait to test this on a proper bbq.