Hamburgers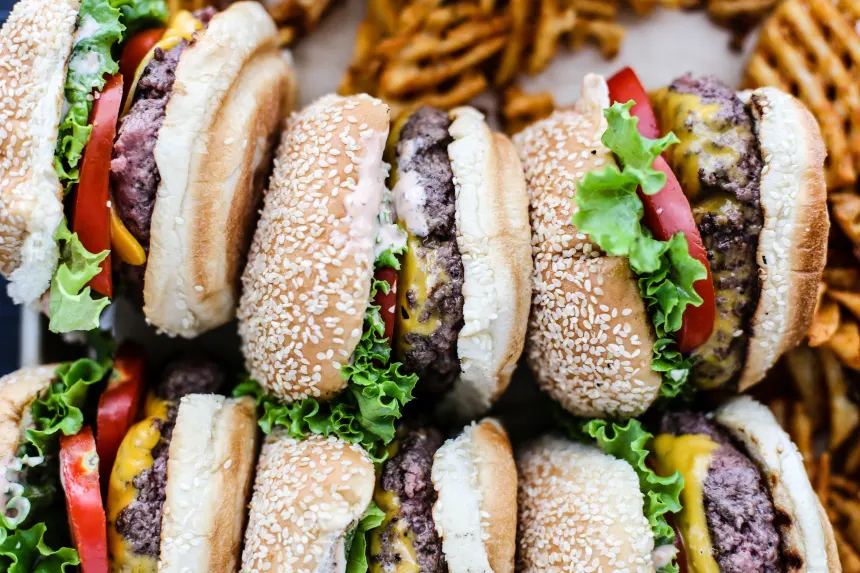 photo by Ashley Cuoco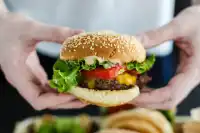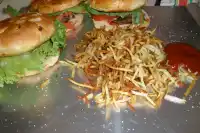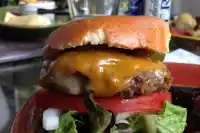 Ready In:

20mins

Ingredients:

6
directions
Chop garlic cloves on wooden surface then put in mortar and pestle.
Add salt and olive oil and make a paste.
Add this to the meat along with the Worcestershire and horseradish.
Mix everything and adjust ingredients to suit your taste.
When you make the patties place an indention in the middle of each one with your thumb (almost all the way through). This keeps the burgers from shrinking. We like ours thick and I like them to stay that way!
Salt and Pepper according to taste when done.
An added note on 04-03-06 - Thank you all for your positive feedback. It's nice to get confirmation on something I thought was good and different.
Please note that I usually add more ingredients than what is called for above. I nuke a tiny hamburger (meatball size) and taste. I usually add more of everything. The horseradish does not taste like horseradish when cooked. It gives it a flavor note that otherwise wouldn't be there. Unless you are allergic to it, please try it.
Reviews
Definately make these if you love horseradish and garlic. Best burger i've had in a very long time. They were great! I doubled on the horseradish, which may be a lot for some people, but was just fine for us. Really great mixture of flavors. BF and I were fighting over who would take the leftover burger in their lunch this morning! A keeper for sure!

 

Juicy and tasty burgers! I followed the recipe exactly and they turned out really great. Only problem I had was that they had a small tendency to not adhere together while attempting to turn them on the grill. Not really bad, but I might be tempted to add an egg in the future just to combat that very minor problem.

 
Tweaks
These were awesome! I used regular ground beef instead of lean (I made 5#); only put 1 tbsp of horseradish for all 5#'s; added dried minced onion and Lime juice. I noticed when forming the patties I didn't have all that yucky fat residue left on my hands, which was a definite plus! I cooked them in my NuWave oven...7 mins then flipped them then another 3 mins. They came out perfect!! Moist, full of flavor and cooked just right! Topped them with slices of pineapple, avocado and T-Bonz bbq sauce #466108! Out of this world! Thanks for posting!!

 

Good...I didn't have horseradish so I used powdered English mustard. I'll try it again with 2T of worcestershire instead of 3T and trying the horseradish. Pretty good- thanks!<br/><br/>June20, 2010 <br/>Followed the recipe exactly- we loved them this time. Thanks!!!<br/><br/>April 16, 2011<br/>Still making them- LOVE THIS RECIPE!!!!

 

After reading many comments about these burgers falling apart, I think I might have stumbled across the reason and the cure. I think it is in the handling of the beef. Typically, the less you work the beef, the more tender the burgers will be. There were so many variables in my recipe, things I did differently from others to be able to tell what was causing the falling apart. Even those who used an egg or added bread crumbs had them fall apart. Others said they had no problem. I made my own vriation on the recipe. I made 4 burgers. Three had trouble holding together; one was perfect. The perfect one was one I formed twice bcause after forming it I found it was too large. I tore off some of the meat, rolled it around again and formed the patty again. It got worked twice as much as the other three. So, I'm thinking that the wet ingredients used are so wet that they actually require that the meat be handled a little more than one would usually do. At first I thought it was that I'd ground my own beef from chuck roast and it was not the right balance of fat to lean. Also, I was afraid the fresh garlic would burn in the high heat on the grill, so I used garlic powder instead. I used two slices of stale bread and a little Half and Half, plus a pinch of gelatin, and an egg. We'd just had a dish heavy on Worcestershire Sauce so instead I used about a teaspoon of A-1 Sauce and only a heaping teaspoon of horseraddish. Unfortunately, I overdid it slightly on the kosher salt I added last but they were still very delicious, especially the one that held together perfectly. Thank you for sharing what has obviously been a popular recipe to try. I'll look forward to experimenting again soon. <br/><br/>Next time I'll try grinding steak tips with short ribs and use less milk on the bread; I'll also use more horseraddish (I'm working my way up to the 3 Tablespoons a teaspoon at a time.)

 

Let's just say that mere words can not describe how truly fantastic these hamburgers are! I have made these many times and just realized I have not reviewed. I have made with qualily ground beef and the bargain ground beef you get in the big tube (for a crowd) and they were equally delicious. When short on time, I have made with garlic powder instead of the fresh minced garlic and again it was fantastic. I am not a big horseradish fan, however, it is a MUST in this recipe. I did cut back a little on the amount but wouldn't dream of making them without it! I increased the salt to 1 teaspoon and added fresh ground black pepper. The result: tender, juicy, melt in your mouth burgers....the only way I make them now. Thanks Vicky for posting a true gem.

 
RECIPE SUBMITTED BY
I love to cook. Have cooked professionally and found it very rewarding and NEVER want to do it again even as much as I enjoyed it. Love new recipes, love those family traditional recipes too. <br> <br>I love talking about recipes and passing them on. There's hardly a day that goes by that I don't talk to someone about cooking.
View Full Profile