Utterly Deadly Southern Pecan Pie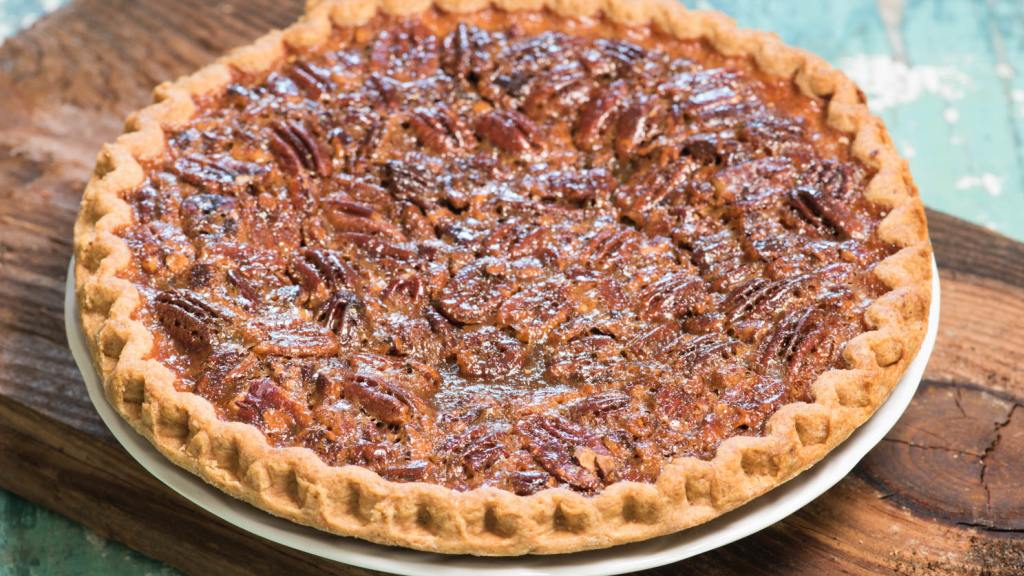 Ready In:

1hr 5mins

Ingredients:

7
directions
In saucepan boil sugar and corn syrup together for 2 to 3 minutes; set aside to cool slightly.
In large bowl beat eggs lightly and very slowly pour the syrup mixture into the eggs, stirring constantly.
At this point I like to strain the mixture to make sure it's smooth and lump free.
Stir in butter (it will melt when stirred into warm mixture), vanilla, and pecans and pour into crust.
Bake in a 350°F oven for about 45 to 60 minutes or until set.
Join The Conversation
why do the cooking times vary soo much??? lastly....can i use a regular depth pie crust ???? i really don't like a really thick pie...also if your mixture is too soupy, try adding a 1 Tablespoon of flour or corn starch....before adding your pecans, lightly coat in flour and sift really good, then add pecans to your mixture (helps to not scorch the pecans).....Stephen

Really good recipe though I agree with some of the other reviewers it needs salt to balance all that sugar! Not hard to do - tips for those struggling to temper the eggs with the syrup. 1. You're aren't trying to achieve a soft ball candy state. You're trying to dissolve the granular sugar into the syrup so there are no crystals in it. Once it's at that state, take it off the heat. 2. This is 1 recipe where it does no good to do all the prep work ahead of time. Once the syrup is set aside, chop the pecans, beat the eggs (adding 1/2 tsp of salt) with a hand or stand mixer & get the pie crust in the pie plate. 3.If you can, put the pie plate & crust in the freezer til just ready to pour the filling in. This will give a less soggy crust. 4. When you've done all that, the syrup should be cool enough to temper the eggs with. 5. Drizzle the syrup in the smallest stream you can possibly manage, having it hit the egg mix just next to the beater so it's immediately pulled into the beaters & spread out. Keep doing this until the entire pot of syrup is incorporated into the eggs. If you've done it slowly enough you'll have a pretty warm bowl of eggs & syrup to drop the butter & vanilla into. 5. I poured the entire mix back into the pot I cooked the syrup in, then strained it back into the mixing bowl & didn't have a single bit of cooked egg or hard balls of syrup! 6. Pull the crust out of the freezer & fill it. 7. Put in the oven. Start checking at 45 mins. You aren't looking for the center to be hard set. It should still jiggle. The edges will be more solid. Once it's taken out & cooled, the center will firm up. This pie is like 90% of pies that are baked in the oven. If you try to eat it before it cools the filling will not stay put. It must be cooled to room temp. If you want to eat it warm, heat on 50% power in the microwave a piece at a time, carefully checking it every 20 seconds or so. Do not get it super hot. When it cools, it will likely be hard set & break teeth! These tips aren't specific to this recipe. They're sort of general tips Re: baking with sugar & eggs. Or fruit. Not everyone has a level of knowledge that includes these techniques. I hope this helps! Happy baking! everyone!