Utterly Deadly Southern Pecan Pie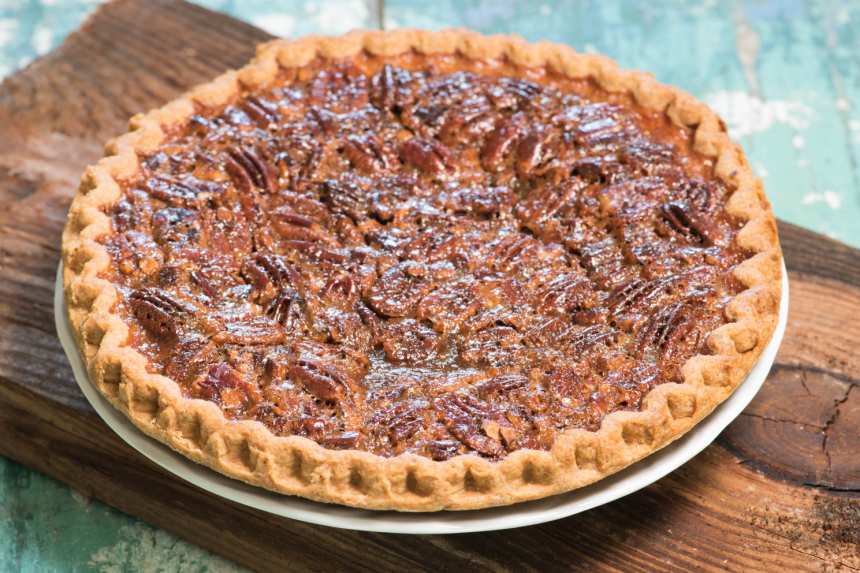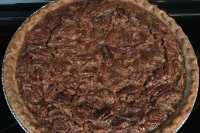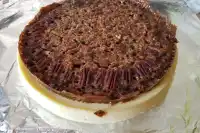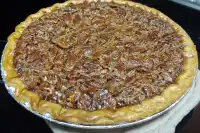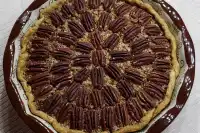 Ready In:

1hr 5mins

Ingredients:

7
directions
In saucepan boil sugar and corn syrup together for 2 to 3 minutes; set aside to cool slightly.
In large bowl beat eggs lightly and very slowly pour the syrup mixture into the eggs, stirring constantly.
At this point I like to strain the mixture to make sure it's smooth and lump free.
Stir in butter (it will melt when stirred into warm mixture), vanilla, and pecans and pour into crust.
Bake in a 350°F oven for about 45 to 60 minutes or until set.
Questions & Replies

I made this pie twice on Thanksgiving morning, all to have nothing to show for it:( I am an experienced baker, and so excited by all the reviews. Additionally, I have made a chocolate bourbon pecan pie by Tyler Florence with no issue. I used 50/50 light/dark Karo syrup and 1 C granulated sugar. I read the reviews about bringing the mixture to a full boil and then starting the 2-3 min "timer". Each time I tried "slowly" pouring the mixture into the lightly beaten eggs. The syrup/sugar mixture turned to a hardened caramel like lump in the middle of the beaten eggs. It hardened so fast I was unable to stir/mix it with the eggs because it was sticking to the bowl and the spoon and just a hardened lump. It instructs to let the mixture slightly cool, so all I can think is that I didn't let it cool long enough. How long do you all let it cool? and do you let it cool in the pot you dissolved it in? Some one mentioned only cooking the sugar/syrup mixture until the sugar is dissolved and not over 160 degrees. Is there a chance that bringing to a full boil and then boiling for the 2-3 minutes is too long, and I should only let it dissolve and not worry about the boil? But I did, because of the feedback to people who said theres was soupy. Many Thanks.

 
Reviews
I've been making pecan pie for the holidays for about 35 years. I decided to give this one a try prior to the holidays (would hate to disappoint at Thanksgiving or Christmas). This has become my new pecan pie recipe! I love the gooey-ness of the filling. The smaller the pie plate, the thicker the filling (obviously) which makes it richer!! Amazing what a difference dissolving the sugar makes. Try it, you'll love it...

 

Absolutely amazing! Made this for my husband and father-in-law because it is their favorite and it turned out to be my favorite! I signed up specifically to review this recipe. It's a keeper and will be my only pecan pie recipe. I made a Gluten Free Dairy Free crust and it was the crowning glory of our Thanksgiving dinner!<br/><br/>I tweaked the recipe a bit. As the sugar/corn syrup cooled, I melted the butter in it to absorb some of the warmth before I whisked it slowly into the eggs. Worked like a charm!!

 

My sister had a pie bar around her KrispyKreme tower at her wedding reception and I was asked to contribute 2 pecan pies. I don't even love pecan pie, but met many people I didn't know because they wanted to let me know that they thought the pie was divine. Leftovers of every single pie on the bar, except for the pecan pie, and it was also the very first gone before some were even tried. Had a feeling it might go that way though, because I ended up making FOUR 'test runs' before the wedding, including a chocolate one with 1/2 cup cocoa, and they were all history by day's end. *Instead of vanilla (except in the case of the chocolate pecan pie I made), I used a teaspoon of maple flavoring and a tablespoon of bourbon and I baked all the pies for about 55mins.

 
Tweaks
Doubled the recipe for 2 pies. My tweaks: - added 1/2c less corn syrup - substituted 1/2c maple syrup for 1/2c corn syrup. - substituted 1/2c of dark brown sugar for white - Added 2oz of bourbon whiskey to the heated corn syrup mixture. - Added 1t of cinnamon (1/2t if making this exact recipe). - Also melted the butter before adding to corn syrup mixture - added eggs to syrup mixture instead of other way around - did not strain (didn't need it) - added a few more pecans than called for (12 or so?) Delish!

 

First I browned all of the butter in the sauce pan. I brushed the crust with the browned butter thoroughly but just enough to coat lightly...no pooling. Next I added 3/4 c of light syrup and the sugar in the sauce pan. After it boiled and the sugar was dissolved I took it off of the heat and stirred in 1/2 c more light syrup and 1/4 c Molasses. Stir until smooth. Let cool to @ 110 dev fahrenheit. Stir again. Next add the beaten eggs to the syrup...not the syrup to the eggs (that's why we cooled the syrup). Stir til it is smooth and consistent in color and texture. I did not strain the syrup mixture as suggested...it did not need it. Prepare the rest according to the recipe. The browned butter adds a subtle richness to the flavor.

 

After racking my brains out trying to find a pecan pie recipe that will live up to my dreams and expectations, I am sort of borrowing ideas here and there and using everything that I've stored. So far, my neighbor who is a gourmet says, "The flavor (of the cooked) "sauce" is good. That was reassuring, because while I feared that 1-1/2 cups of corn syrup was going to make it oversweet, I thought what I blended was perhaps not sweet enough! I used 1/2 cup each of light corn syrup, dark corn syrup, and "grade B" maple syrup ( it is less sweet than "grade A" but has a very better maple flavor, IMO). I used a cup of demerara sugar (e.g.turbinado). As it was heating in the pot I tasted it and decided to add further, a teaspoon of "Plantation" molasses. Boy, that little bit gave it just the nicest tweak of "wow". Also, since I'm going for hopefully nuanced complexity, lastly two tablespoons of bourbon so as to give every chance (while the mixture boils and afterwards through baking) to cook away and just impart that whisper of toasty oak. Darn, this is promising. I hope all else goes well with the baking stage. I will return for a follow-up of the complete picture. God, I'm setting my expectations so high! ;)

 
RECIPE SUBMITTED BY
I was born in Newfoundland, Canada. I grew up watching my grandmother bake bread and knit. <br>I now live in a friendly little town on the coast of North Carolina. I love to bake, especially bread and desserts. I also love to knit, especially socks, just like my grandmother. I am the co-owner of a yarn shop in our little town. When I'm not working in the shop I am usually at home in the kitchen!
View Full Profile