Yes, Virginia There is a Great Meatloaf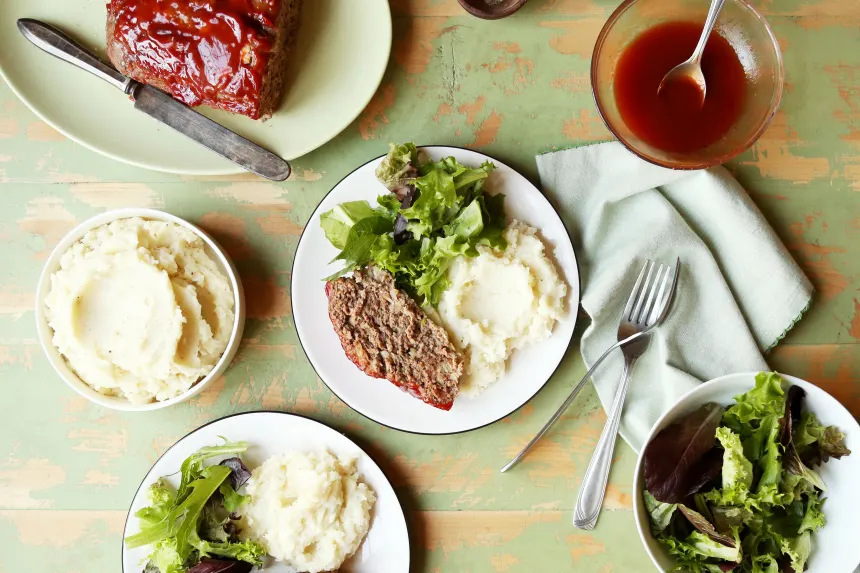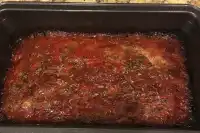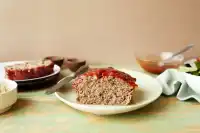 Ready In:

1hr 20mins

Ingredients:

11

Serves:

4-5
directions
Meatloaf: Combine meat loaf ingredients and place into a loaf baking dish.
Smooth out top.
Sauce: Combine sauce ingredients and pour on top and sides of meatloaf.
Bake at 350°F about 1 hour to 1 hour 15 minutes or until done.
ENJOY!
*The addition of 1 or 2 teaspoons of Kitchen Bouquet® makes this recipe very good.
**Recipe should be"plump" from the addition of the milk or Half & Half.
It should NOT be runny.
***A second batch of sauce served hot is good to serve with the meatloaf.
Nita's Note: I note that some of you are using game meat such as deer -- Deer is a very DRY meat. It is wise to HAVE some fat added to the deer -- especially to ground deer. Maybe 25 % fat, ( I recommend 1 lb of ground venison, and 1/2 lb of deer sausage for fat content), otherwise your results will be poor. I don't know about some of the other game meat some are using. Please consult an expert. The recipe is delicious as it stands! Enjoy! Nita Holleman.
Questions & Replies

I can understand saying that a recipe has too much of this or that, but a lot of these "reviews" aren't reviews. They're just people that have completely changed the recipe. I see this so often, and it's ridiculous. Some of these "tweaks" are actually making a totally different recipe. Makes it very confusing when trying to decide if I should bother with the recipe as written.

 

I don't think I ever made a meatloaf the same way twice. Some were great, some were good and some were, just okay. This one seemed like it would be good and it's now the only way I make it. I 've never been a fan of meat glazes, but this one, wow. Even my non-cooking husband will make this one because it's so easy. Thanks so much for posting it.

 
Reviews
5 stars because it was easy to make and my very picky eaters liked it. After reading some of the reviews, I substituted the slice of bread with some stuffing (ground into crumbs with food processor) for more flavor. 1 slice of bread = 1/4 cup of crumbs. Also, the first time I made this, the sauce tasted very "vinegary" (my guys did not like it at all!), so the second time I made the sauce a couple of days in advance to let the flavors marry and some of the vinegar evaporate - much better (my picky eaters thought I used a different meatloaf recipe and I wasn't about to fess up). Reducing the amount of vinegar made the sauce taste too "ketchupy." Thank you for sharing!

 

Best Meatloaf I have ever made. Absolutely rave reviews. I cant imagine anyone saying they did not like it! Oh well, to each his own favourites I guess! For me, this one has been a keeper ever since I discovered it here months ago. Rather than prepare the meatloaf in a family size loaf pan I make 4 or 5 small ones in small glass baking dishes and freeze them and then just pop in oven or micro to reheat when needed. I have also froze the sauce in ice cube trays and then have extra sauce when I pull out one of the little loafs. The frozen sauce melts almost immediately over the hot loaf. Love it.

 

I've made this several times now, and thought it was time to post my rave review. Best, best meatloaf I've ever made! Even better than my mom used to make, and I loved hers. I followed another's hint and sautee the chopped onions with a large clove of minced garlic before adding to the meat mixture, and add about 1/2 t. worstestershire sauce. I sometimes add a couple Tblsp. of bbq sauce to the sauce mixture, but the sauce is great without it too - I always make extra for those who like it extra "extra saucy"! Scrumptious comfort food.

 

This recipe had good flavor...but there are a few things I'd change next time. First: Saute the onions prior to mixing into the meat to help soften them and incorporate them in. Second: use less milk...a lot less milk. Third: add a little dry mustard, minced garlic and Worcestershire sauce. Otherwise delicious and we enjoyed it.

 
Tweaks
This is the same recipe my mother taught me except she never measured anything and did not include any milk or half and half and the bread was torn a little on the chunky side rather than fine. Also, she never put her meat loaf in a loaf pan. She (and I) pat it into a loaf shape and bake it in a shallow roaster with a rack. This allows the fat to drain away. My husband never liked his mother's meatloaf but he liked mine because it wasn't greasy. PS - I'm from Pittsburgh so I always use Heinz Ketchup.

 
RECIPE SUBMITTED BY
We hail fom Central Georgia, but live in our fifth Southeastern State -- Georgia, South Carolina, Florida, Tennessee, North Carolina (USA). I have been cooking Southern food for more that fifty (50) years. My mentors were my grandfather, my husband's favorite aunt, and several maids/cooks who worked in our home. I guess the best cookbook you can own would be the all time favorite, "Joy Of Cooking." Although not ethnic, it has lots of basic cooking information in it. I've given it as a gift to all our family.
View Full Profile