Low & Slow Oven Baked Ribs - Super Simple!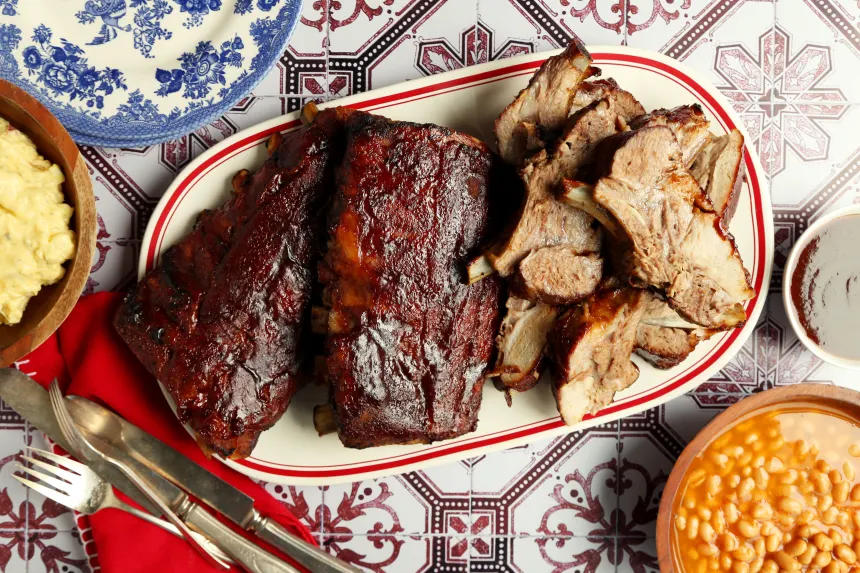 photo by Jonathan Melendez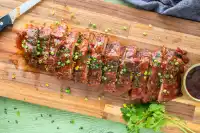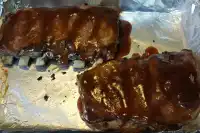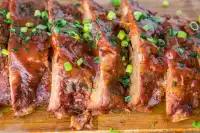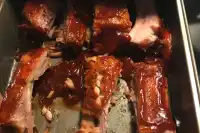 Ready In:

4hrs 20mins

Ingredients:

2

Serves:

4-6
ingredients
2

racks pork baby back ribs (our favorite are baby back ribs, but this works well with St. Louis style ribs too)

1

cup barbecue sauce
directions
Preheat oven to 225 degrees.
Season your ribs with Dale's marinade, your favorite rib rub, grill seasoning, or simply salt and pepper.
Place ribs, meat side down, in baking dishes.
Cover the baking dishes with aluminum foil and place in the oven.
If you are using small baby back ribs, take out after 3.5 hours. If you are using regular baby back or St. Louis style ribs, then take out after 4 hours.
Drain off the drippings. Flip the ribs over using two spatulas (and an extra set of hands if you have them) so the meat side is up. Be careful, as they may be so tender they fall apart.
Put a layer of BBQ sauce on the ribs and return to the oven uncovered for an additional 20-30 minutes.
Remove from oven and serve them up with a side of potato salad and some baked beans.
Questions & Replies

Reviews
With my wife away visiting my eldest daughter, and me at home managing three teen sons, I was searching for an easy, tasty recipe other then my staples of spaghetti, tacos, pizza, and Italian beefs. My wife has fixed ribs before, but usually used the boil and grill method. Seeing this one explained so clearly, and seemingly so easy, I thought I'd try it. I had two slabs of ribs and baked them at 225 for five hours (I had to run up and pick up something so they were in an hour over what it said). Even after 5 hours, the ribs were juicy, tender, and falling apart. I think having it covered gives it a lot of leeway in the cooking department, along with the low temp. Adding the sauce and baking it on uncovered for 25 minutes gave me ribs that I can honestly compare with restaurant quality (unless you want grilled of course). We make our own BBQ sauce as we like it spicy, so all I can say is EASY, FOOLPROOF, and DELICIOUS!!

 

I didn't have 4 1/2 hrs so I took one reader's suggestion and increased the temp to 300 deg F. It took 3 1/2 hrs to get them fork tender. Since the baking sheet had about 1/4" liquid on it, I put a layer of foil on a clean baking sheet and flipped each rack onto it with the help of my son holding the clean baking sheet. I slathered on over a cup of Moe Pritchett's BBQ sauce and baked for 15 min. Then slathered on another cup or so of BBQ sauce and baked for another 15 min. The second layer sticks better than the first.

 

Best recipe ever! You can't do this recipe wrong. I never make ribs because the cooking channel stars always make it this long complicated process. I don't even know how long I cooked mine for since I went shopping while they cooked. I never even flipped them over until I got home and put the bbq sauce on. I did put 2 layers of bbq sauce on just because I had time while I waited for my family to get home from hockey etc. I just sprinkled the ribs with salt, pepper. onion powder and garlic powder at the beginning and used my favorite jar bbq sauce. I'm very happy i found this recipe.

 

DELISH!! I literally JUST made these and devoured them 5 minutes ago... my fiancé said they were the best ribs he's ever had; he can't stop going on about how great they were and how well they went together with sunday football! Before baking, I generously seasoned both sides of the baby back rib rack with salt, pepper, garlic powder and onion powder and baked, covered, at 225º for 3.5 hrs. Then (in the interest of time) I finished them off with a store bought honey bbq sauce for 30 more minutes, uncovered. They weren't kidding when they said the meat would be falling off the bone!

 
Tweaks
If you'd like a little crisp or char on the outside, finish them under the broiler for a minute or so until it's to your liking. Watch closely, the first time I did this the smoke alarm in the kitchen let me know that they were done. No harm, they were great, the BBQ sauce was just a little blackened.

 

Another tweak or options and a thank you to jenne for a timely acknowledgement to my last tweak and a great recipe/method. I was told about this method 15 years or so ago. They would do the finish on the grill. I told this method to a friend that does a lot of grilling/BBQ'n and he suggested starting on a charcoal grill (indirect heat) with wood chips to start a smokey flavor and then finish in the oven. I used the two ideas to be lazy. I pour some BBQ sauce in a small bowl and slowly add liquid smoke to desired taste. Be careful as some brands can be very potent.