Kim127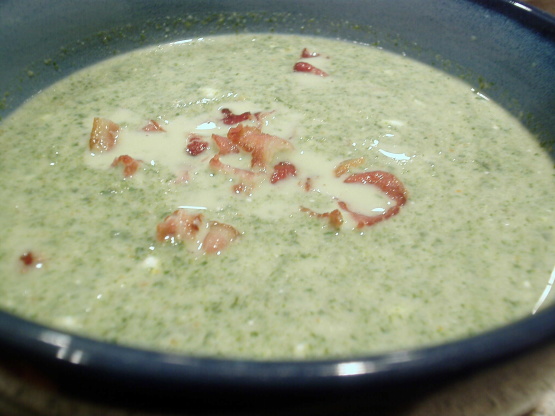 A soupalicious spin-off of everyone's favorite party dip! Chunky artichoke hearts in a rich, velvety base of pureed spinach and artichoke hearts, accented by cheese and bacon (optional).

I made this recipe but tried to keep the Cholestrol Low by omitting the milk and cheese and cutting the cream cheese to one tablespoon. It was wonderful !!!!
Saute onion, celery and carrots in oil on medium heat until tender (about 7-10 minutes).
Add garlic and saute for one minute.
Add chicken broth, spinach, and half the artichoke hearts.
Increase heat to medium-high and simmer for 5 minutes.
Reduce heat to medium and puree with stick blender (or in regular blender and return to pot).
Add cream cheese, milk, soy sauce, and the other half of the artichoke hearts, stirring frequently until cheese is completely melted (about 3-5 minutes).
Break up laughing cow cheese into smaller pieces and stir into soup until partially melted.
Immediately remove from heat and serve topped with crumbled bacon and freshly ground black pepper.