Dorel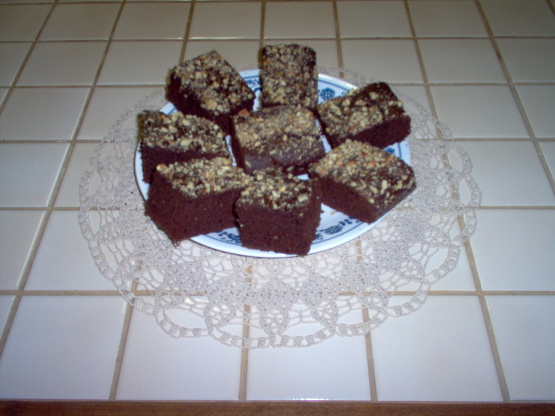 You could probably reduce the oil amount and add in more applesauce to reduce the fat :)

I found the brownies to have a nice moist/cake texture to them but found the flavour was lacking. I followed the recipe but followed the suggestion of putting the brownies in at 350 for 20 min which was a good amount of time. Unfortunately the brownies seemed to lack a nice chocolate taste to them and I felt like it could have used more sugar as well. Frosting them will probably help give them the sweetness they need. Sorry but not one of my favourites :(.
Set oven to 375 degrees.
Grease and flour a 9-in square baking pan, or line bottom with wax paper, and grease.
In a large bowl, combine the oil, applesauce and cocoa.
Add sugar, stir with a wooden spoon, until dissolved.
Add the eggs and vanilla, beat with spoon, until combined.
Sift all dry ingredients in a bowl.
Stir into the applesauce/egg mixture.
Pour the batter into a greased and floured (or wax paper-lined) baking pan.
Sprinkle the chopped nuts on top of the batter.
Bake for 20-30 minutes, or until top is set, but edges are not dried out.