Apple Turkey Fingers (For Older Infants & Toddlers)
parthree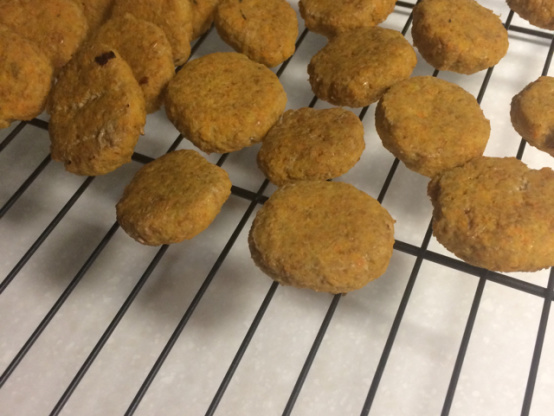 Inspired by the classic (and kid-friendly) combo of apples & turkey, I concocted these tonight for my 9 month old and liked them so much I might end up eating them myself! Perfect for older babies and toddlers (serve with a fun dipping sauce), these make cute little "fingers" in perfect take-one-out-of-the-freezer-at-a-time portions. I used half an egg (if your child is over 12 mos. you can use more - I limited the egg white for infants) and unprocessed bran (for a nutritional boost) for binding. Enjoy, babies and grown-ups alike!

5 stars for making my toddler excited to eat and dip. Mommy and Daddy enjoyed them also. I rolled them in cornmeal for an extra crunch. Served with mashed potatoes, gravy and peas (or ball-balls). I will make them again for sure. I want to try freezing a batch, so I can take them out as part of an easy lunch. A nice way to get the convenience of frozen food without it being processed.
Preheat broiler.
Place ground turkey in a large mixing bowl.
In a food processor or by hand, grate the carrot, apple, garlic & onion, or else mince very finely (I grated the carrots using a microplane, but minced the apple, onion and garlic for texture). Add to bowl with turkey.
Add the 1/2 beaten egg (or whole egg for older kids), bran, thyme and any seasonings you wish. Mix all ingredients together.
Scoop mixture up about 1/4 cup at a time (size of a large meatball) and roll into little sausage shapes, placing on a broiling pan or cookie sheet as you go (you may need to do two pans worth). Wet your hands periodically if it's sticky.
Place in broiler and broil for 10-15 minutes on one side, then turn over and broil 5-10 minutes more.
Remove and let cool. Store together in a freezer bag or individually wrapped in foil.
Enjoy!