The Best Garlic Shrimp in the Whole Wide World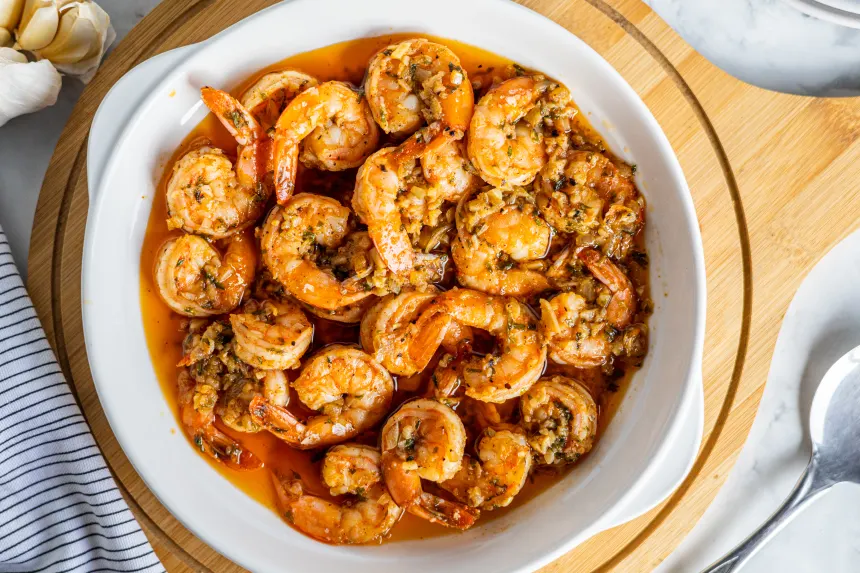 photo by limeandspoontt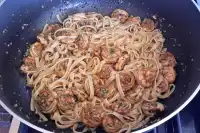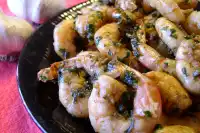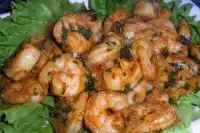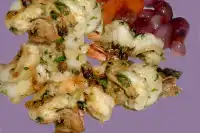 Ready In:

25mins

Ingredients:

8
directions
In a large Ziplock freezer bag, mix everything except the butter and swish it around good to coat all of the shrimp. Or, mix everything in a large bowl and cover TIGHTLY with Saran wrap.
Refrigerate for 1 hour.
Preheat large heavy bottom pan with the butter in it on medium. Toss shrimp around for about 10 minutes until pink and lightly browned.
TIPS: Do not substitute with garlic powder OR dried parsley! Sea salt is stronger than table salt so use less than normal. Table salt can be substituted.
Serve with steak or pasta with a white sauce.
I KNOW THIS IS VERY SIMILAR TO MY OTHER SHRIMP RECIPE, BUT I MADE IT THIS WAY TONIGHT AND IT WAS SO UNBELIEVABLE THAT I HAD TO POST IT! EVEN BETTER THAN MY OTHER SHRIMP RECIPE!
Reviews
cooking shrimp for 10 minutes...lol. Even funnier, the recipe is followed by a "next up video": how not to overcook shrimp. Best results will be with gulf shrimp. I get them fresh here in NOLA. Sauteeing the shells first in olive oil with garlic and chilis will yield a more flavorful dish. Once the shells have turned pink and crisp, scoop them into a strainer and let the excess oil drain back into the pan. Proceed with the recipe.

 

When I read this recipe I thought... wow, that's a lot of garlic and parsley. But I made it... hoping that it wasn't like some where it's so garlicky that that is all you taste. Well, the parsley, gotta use fresh, and the garlic balanced each other perfectly. Every flavor came through brillantly! There's a lot of oil and butter left so I cooked up 8 oz. of linguine and just added that at the end to absorb the same flavors. My family loved it. I think next time I will add a little white sauce and see what I come up with. Thanks Bethany!

 

Garlicccccccccc! Yummy! This was a really wonderful recipe for garlic shrimp. I served mine over fettucine noodles. The only change I'll make next time (and it's just a family preference) is to half the amount of parsley. Everything else was perfect for us. One thing I didn't know about was if you added all of the marinating sauce to the saute pan or if you picked the shrimp out of the sauce first. I chose to include the sauce so it would coat my noodles.

 

Well send my home and call be Buford!! lol OMG!!!! What a delightful experience this was!! A tastbud THRILLER!! Yum! The only thing I would do different is to cut back on the olive oil, next time I will use only 1/4cup, other than that it is perfect. We mixed it with some pasta, and what a wonderful meal. I think next time I'm going to marinate it in some cajan spice (Tony's, the BEST), and grill it in my saute pan that my DS got for me. Maybe some red pepper flakes and lemon zest. Give it a try, you won't be dissapointed. Thanks for such a great recipe!!!