Chili's Spicy Garlic & Lime Shrimp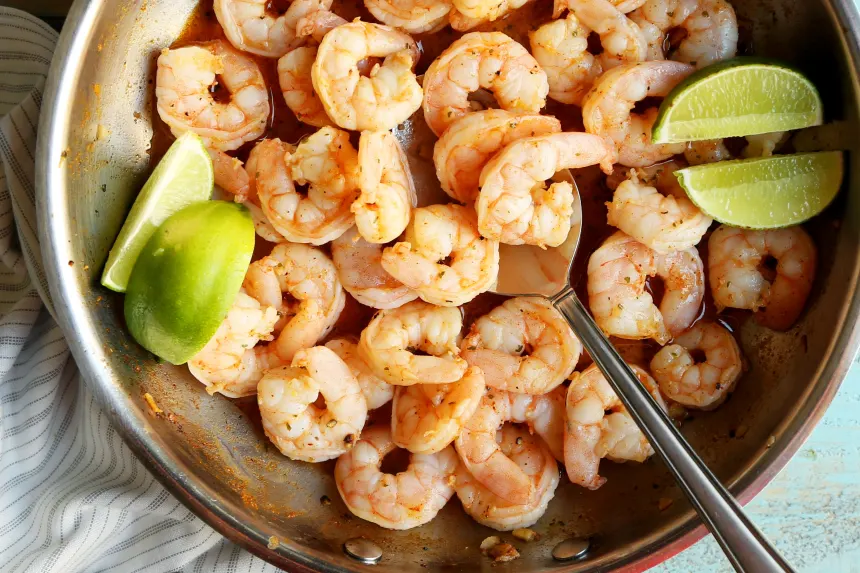 photo by Jonathan Melendez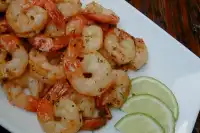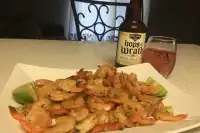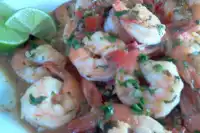 Ready In:

20mins

Ingredients:

12
directions
Make the seasoning blend by combining all the spices in a small bowl.
Preheat a large skillet over medium heat.
Add butter to the pan.
When the butter is melted, stir in the pressed garlic.
Immediately, add the shrimp to the pan.
Cut the lime in half and squeeze each half into the pan over the shrimp.
Sprinkle the entire seasoning blend over the shrimp, and give it all a good stir.
Saute the shrimp for 5 to 8 minutes or until they begin to brown.
Be sure to cook both sides of all the shrimp.
Questions & Replies

Got a question?
Share it with the community!
Reviews
My boyfriend made this for me last night. He used 2 pounds of shrimp, weighed at the store with the shells and tails on. He doubled everything in the recipe except the salt which he measured as stated in the recipe. We agreed that any more salt would have been too salty, and he likes his salt. Our garlic cloves were quite big. When we make this again (it's a keeper) if the garlic cloves are small, we'll use more because we liked it nice & garlicky. We added the lime almost at the end of cooking, and we squeezed more lime at the table. I don't know how this could be 4 servings. The two of us ate almost all of the doubled recipe for dinner, but we didn't bother with any side dishes, unless wine counts as a side dish. :) We loved it. Next time we'll probably use some fresh parsley and for sure have some good bread because the butter and spices make it nice & saucy. .

 

Delicious. Easy, simple. I made this with much less salt like the others suggested, and made it with penne pasta using the drippings as the pasta sauce, added the lime juice last, and put more lime juice and parmesan reggiano cheese on the pasta, and it was spectacular! I wish I had made alot more shrimp.

 
Tweaks
I have made similar shrimp often in the past with lemon and/or lime. I like to grate some rind and put that in the pan with the shrimp, and only adding the juice toward the end. Then cover the pan, and cook for another minute only. This allows the rind to infuse flavor into the butter and/or oil from the beginning. Keeping the juice out til the end allows more sauteing and less steaming, and the barely cooked juice adds a brightness.

 

Oh my, this is so delicious! I love shrimp but I usually just wind up frying it or boiling it and I wanted to make something a little more adventurous for once so I chose this recipe. I took the advice of many others and lowered the salt to 1/4 teaspoon. I subbed in red pepper flakes for the cayenne and left out the thyme since I didn't have any. Even with these changes these shrimp were superb; be sure to make bread or noodles to go with this too!

 

Really good shrimp, super quick! I planned to serve this on pasta so increased the butter to 4TBL , and used 5 medium cloves of garlic with 3/4 of a lb of shrimp. For the seasoning I only used a 1/8 of a tsp- my pasta water was well salted, but even without that I never would use this much salt. I subbed red pepper flakes for the cayenne and fresh parsley instead of dried. We really liked the seasoning - it had a nice zing without being too spicy and the lime was a great finishing touch. I don't like tough shrimp so rather then worring about browning I cook it at a much lower temp to try and get it to absorb the flavors, and pull it out off the pan when it's just barely done since it will continue to cook. This make for tender flavorful shrimp. The whole thing was perfect with pasta we added a sprinkle of fresh parm - perfect! Made for Photographing National Garlic Month