Chewy Sourdough Pizza Crust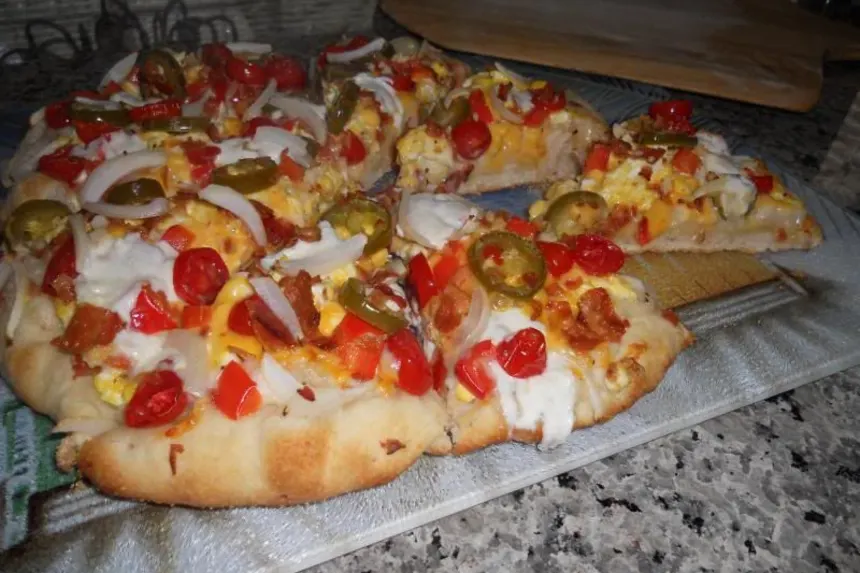 photo by ColoradoCooking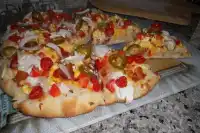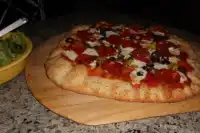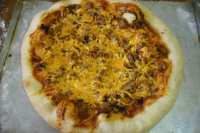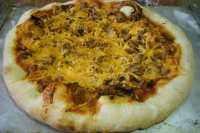 Ready In:

1hr 55mins

Ingredients:

6
directions
Put all ingredients except cornmeal in bread machine pan in the order recommended by manufacturer.
Select dough cycle and start.
Divide the dough into 4 equal portions and form into balls.
With a rolling pin, flatten the balls into 12- to 13-inch rounds about 1/8 inch thick.
Fold each round in half and transfer to a bakers peel or thin baking sheet sprinkled with cornmeal.
Proof, covered, for about 45 minutes at 85 degrees F.
Place a baking stone in a cold oven and preheat for at least 15 minutes at 450 to 500 degrees F.
Add your toppings to the rounds of dough and transfer the pizzas to the hot baking stone (See Note).
Bake for 20 to 25 minutes, or until crust is brown.
Remove from oven with bakers peel.
NOTE: It takes practice to transfer the pizza to the stone.
As an alternative, bake the pizza on a traditional pizza pan sprinkled with cornmeal.
Reviews
This has become my go-to recipe for pizza crust over the last 5 years. I built a pizza oven on the back patio in 2005 so i make a lot of pizza.<br/><br/>I like this recipe because it uses 2 cups of starter which gives a lot of flavor. I take my starter sample (a few tablespoons) out of thr fridge 2 days before pizza night and feed equal parts flour and water every 12 hours. I end up with enough starter for 2 batches.<br/><br/>I add 1/2 cup cornmeal to the dough in place of 1/2 cup of the flour.<br/><br/>I also mix in a kitchenaid mixer as i dont have a bread machine.<br/><br/>Makes a great crispy thin crust. Cook on a pizza stone for best results.<br/><br/>Update: To all who say this crust is too wet, as with all bread recipes you have to adjust the amount of flour you add due to the amount of moisture in the flour and the humidity in the air. Just keep adding flour until you get to the right consistency.<br/><br/>BTW: 1/6 batch=11 weightwatcher points (before topping)

 

AWESOME!!!!! This is the first time I have ever made a pizza that the crust did not flop all over the place and we ended up having to eat it with a fork. I used the "Papa John's Pizza Sauce" (#108447). I let mine rise on a piece of parchment paper, just put the parchment and all onto the hot pizza stone and brushed the top with EVOO, poked holes in it and baked for about 5 minutes before topping. One note, I did have to add more flour and knead a little longer in my breadmaker. My starter may have been a little thin. It works great with whole wheat as we.. I forgot once to poke holes in the crust when I prebaked it and it was so puffy when I took it out of the oven, that we broke it up and used it like pita chips dipping them in the pizza sauce. It was really good that way!!!

 

Love It!!! A nice crisp crust that is chewy in the center without being doughy. Just a hint of sourdough - very yummy! I followed the recipe exactly, used my KA mixer to do the work and just patted and shaped it onto a baking sheet - turned out amazing!! I love that it's so quick - much faster than my regular yeast dough recipe. I'll be switching to this one for good.

 

I followed the recipe as printed, except for adjusting flour to increase consistency of dough. Instead of smaller pizzas, I used the entire doughball spread over a 16-inch perforated pizza pan. I allowed this to nearly double in thickness in a barely warm oven for about 2 hours and then baked it for 10 minutes at 400 degrees, after which it was removed from the oven and shredded cheese, along with small slices of Mozzarella cheese, was added with a vegetarian topping of Nawlins Italian olive salad sprinkled with crushed red pepper to taste. It was then put back into the 400 degree oven for about 15 minutes to finish baking...........this is absolutely the best pizza I've ever made!!!!!! Thanks so much for sharing your recipe with us, Donna.