Gluten-Free Pizza Crust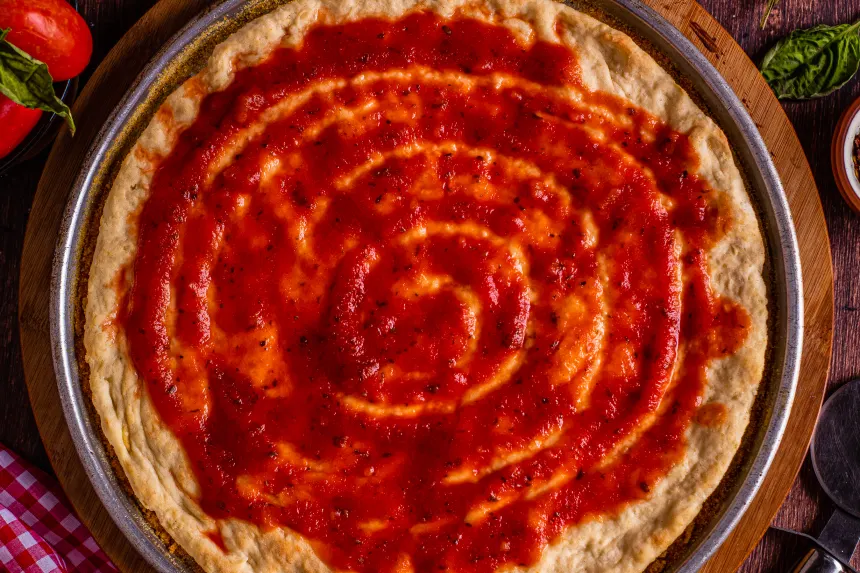 photo by limeandspoontt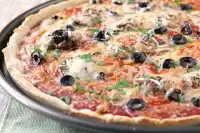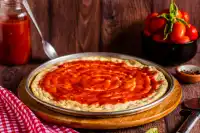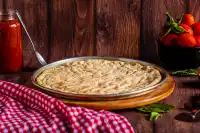 Ready In:

30mins

Ingredients:

12
ingredients
1

tablespoon dry yeast
2⁄3 2/3 cup gram flour (I use 'garfava' flour which is a blend) or 2/3 cup fava bean flour (I use 'garfava' flour which is a blend)
1⁄2 cup tapioca flour

2

tablespoons powdered milk (Dairy alternative, 2 T tapioca flour or sweet rice flour in place of 2 T dry milk powder or non-dair) or 2 tablespoons non-dairy powdered coffee creamer (Dairy alternative, 2 T tapioca flour or sweet rice flour in place of 2 T dry milk powder or non-dair)

2

teaspoons xanthan gum
1⁄2 teaspoon salt

1

teaspoon unflavored gelatin

1

teaspoon italian seasoning

2⁄3 cup water (110 degrees F)
1⁄2 1/2 teaspoon honey or 1/2 teaspoon agave syrup

1

teaspoon olive oil

1

teaspoon cider vinegar
directions
Preheat oven to 425 degrees F.
In medium bowl using regular beaters (not dough hooks), blend all ingredients on low speed.
Beat on high speed for 3 minutes.
(If mixer bounces around bowl, dough is too stiff. Add water if necessary, one tablespoon at a time, until dough does not resist beaters.) Dough will resemble soft bread dough.
Put mixture on lightly greased 12-inch pizza pan or 11 x 7-inch pan (for deep dish version).
Liberally sprinkle rice flour on dough, then press dough into pan, continuing to sprinkle with flour to prevent sticking to hands.
Make edges slightly thicker to hold toppings.
Bake pizza crust for 10 minutes.
Remove from oven.
Spread pizza crust with your favorite sauce and toppings.
Bake another 20 to 25 minutes or until top is nicely browned.
Reviews
I get rave reviews from gf people as well as non gfer's. I do have a little trick for making this perfect though. Once I get the dough on the well greased and well floured foil, I put the foil directly onto a preheated grill over medium heat. I cook for 5 minutes and then flip the dough over so it is directly on the grill and I peel off the foil and discard it. I cook the dough another 2 minutes and remove. Then I put on my topping and return to the grill. If the dough starts to get overdone, I remove the pizza from the grill and pop it under the broiler in my oven for a couple of minutes to get the cheese nice and bubbly. This cooking method makes a big difference. I have also doubled or tripled the recipe to make several crusts at once and then I freeze the crust to make an impromtu pizza later.

 

This is AMAZING. I have been gluten free the past year and was stuck paying 20 dollars at Fresh Brothers for essentially a personal sized pizza gf pizza (A complete and utter RIP OFF) for the same quality crust that this one cost me pennies to make. <br/><br/>I followed directions to a tee except for the modification of flipping the crust 1/2 way through the initial baking, and having to cook my pizza about 20 minutes total.<br/><br/>Will make this recipe again and again, even for non GF people as it is simply a great crust. Thank you!!!

 

Yep, it's that good. I used 1/3 cup soy and 1/3 cup rice flour in place of the garfava. I followed another reviewers suggestion and put it on foil and did first bake on the grill. Be sure to REALLY put a lot of olive oil on the foil first. I made a bunch of them and froze for a quick pizza, just add toppings and finish baking. We couldn't tell it was gluten free.

 

made it for my dad while my folks were visiting (he has gluten allergies). we all had a taste of his pizza & for the first time ever, i think it was comparable, if not better than the non-gf meal the rest of us had. i've always felt badly that he has had to give up yummier food, but not with this crust! my mom has asked for the recipe and is now making it for the both of them at their home as well! goes great with Ultimate Pizza Sauce by SAMS_Club.

 
Tweaks
I'm pretty new to GF baking, and we always had pizza every Friday night so not being able to eat pizza like we used to has been very disheartening.<br/><br/>I tried this because I had the ingredients on hand (for the most part)...many GF pizza crust recipes call for a mix of several kinds of flours that I just haven't gotten around to purchasing yet. I used brown rice flour, and substituted 1/2 the amount of tapioca flour with cornstarch as one reviewer did, and 2 TB of nutritional yeast in place of the dry milk. I also used an egg instead of gelatin. I also used honey for the sweetener, because I remember someone commenting somewhere on a GF bread recipe that honey helps mask the "gf-ness". <br/><br/>This dough was very easy to make and pretty tasty. It's apparent from the comments that some people thought this was just like "real" pizza crust, and, while it did not have a particularly noticeable gluten-free kind of taste, it did not have the texture of regular wheat pizza crust. This could be because I did not use tapioca flour, I intend to purchase some and make this again as written. <br/><br/>Over all, very good and I will make it again. Thanks!

 

Thank you! Excellent crust the 2nd time around! I made this recipe a few months back and had no success. After reading the rave reviews, I assumed it was my yeast. I tried it again today and WOW! I did try a few things differently this time around. I used white rice flour instead of brown and proofed the yeast for 5 minutes with agave in the lukewarm water. I also added 2 tbsp more of lukewarm water while the mixture was being beaten on high. When It came time to pat it into the pan, I added rice flour to the surface of the dough and then used a piece of plastic wrap to pat it out. My celiac husband and child LOVED it and so did I! Much better than any gluten containing crust I've tried!